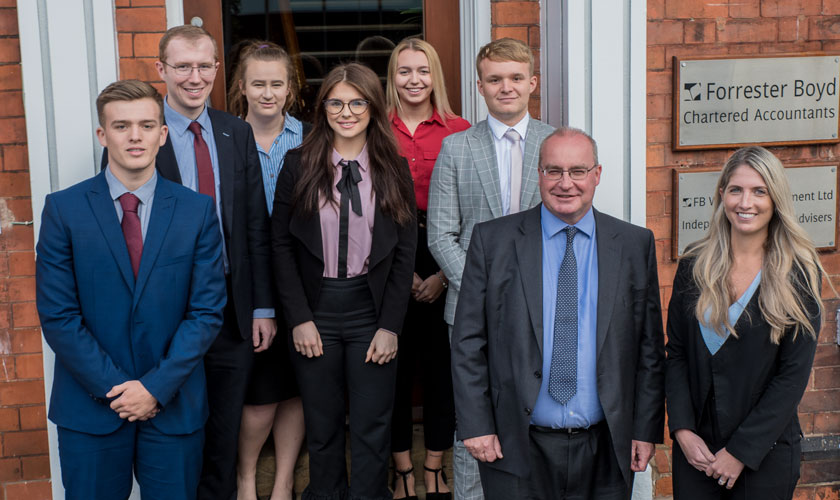 Forrester Boyd, one of the leading independent accountancy firms in the Lincolnshire and Humber region, is excited to welcome the class of 2019.
This year's intake of six trainee accountants have a very broad range of skills and interests that they bring with them.
Joining the Grimsby office is self-confessed 'elite sportsman' Will Stowe. Will has a passion for Rugby Union, having played at a high level. He chose Forrester Boyd for its "good reputation for excellent training and support of new staff." This accompanied with a friendly working environment made the firm the most appealing option in the area for Will.
Another trainee joining the Grimsby office is Daniel Bareham. The University of Lincoln graduate chose Forrester Boyd for his career in accounting because "it is a very reputable and professional company.
The firm also offers a great training and support package for aspiring accountants, so I am very fortunate to be given this opportunity." Daniel also has an in-depth knowledge of Agriculture business having worked for an agricultural merchant over the last three years.
Georgina Capes rounds up the Grimsby incumbents. She is looking forward to being part of a growing accountancy firm and "reaching my full potential whilst gaining both experience and qualifications." She wanted to join Forrester Boyd because of "its glowing reputation and its inclusion of a lot of young trainee accountants."
The firm's Louth office welcomes Will Bailey. After studying A-levels Will went on to complete an extended project qualification investigating potential racial discrepancies within the American Justice System. "The opportunity to study for my AAT and ACCA qualifications whilst gaining full-time work experience at such a reputable firm is one I am excited to have been offered and hope I can excel within the role," said Will.
Meanwhile, in Scunthorpe, the firm welcomes the arrival of Katelyn Norris who has joined following completion of her A-levels at John Leggott College. "I've always wanted to work in an accounting firm but I didn't want to move away from my family and friends," said Katelyn. "I had heard a lot of good things about Forrester Boyd, how they treat their staff, their client service and more. There are lots of opportunities for training too which drew me in as I want to become a qualified accountant," she continued.
Heading over the water onto the North Bank of the Humber, Ashleigh Clifford joins the team in Beverley. Ashleigh wanted to join Forrester Boyd because of the 'support network' that she felt stood out, along with the ability to personally develop with the firm.
Kevin Hopper, Managing Partner said;
"It is really encouraging to see the talent applying for roles within the firm. It is not just the talent but also the attitude of our trainees to want to succeed and progress their careers at such a young age. They are very ambitious and we and thrilled to be able to support them on their journey. Who knows, they could all be the partners of the future."