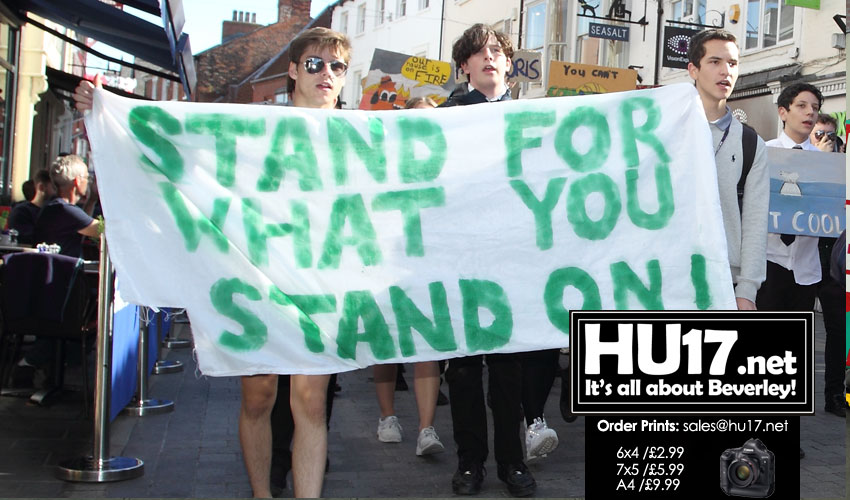 Climate change protests were held in Beverley as students and activists joined millions of people around the world to make their point.
In Beverley students from local schools and also from schools in neighbouring villages make their presence felt.
Max Bedford who attends Beverley Joint Sixth Form explained why students felt the need to take to the streets. Speaking to HU17.net he said;
"This is about bringing climate change into the public eye. Making sure it does not disappear by the wayside. Also making sure that when people buy a plastic bottle they do not just throw it away. Making people think about their everyday actions and that they have the environment in mind."
"We want people to think about how they use plastic bottles, think about dropping litter and that our planet is safe from us."
"Ideally we also hope that by doing this we can make people think when they buy a car. Instead of going for a regular car they think twice and opt for a Hybrid."
"This protest is all about making sure people have the environment in front of their minds when making a decision."
Climate Change Protest Won The Support Of People In The Town Centre
Turn out for the protest was good. Students from Beverley were joined by fellow pupils from schools around the region. There were also a number of other groups who joined the march including Cherry Buton Against Fracking.
Max says that the people of Beverley and East Yorkshire are proud when it comes to their environment. However, he also said we not always appreciate the fact that Beverley could soon be underwater.
While these young adults are out there protesting, they too can often be accused of not taking 'green' issues seriously. Technology means many of those out there change their smartphones, adding to the pollution in the world.
Max himself takes a strong view on this, he has not updated his phone in over five years. He is also aware of the impact 'fast fashion' has on the planet.
Close to home Max says that at the school he attends students have implemented a recycling programme. Something that was not already in place.
The reaction that the students got was certainly positive. Many people applauded them as they took to the streets in Beverley.
He added;
"We have made changes at school to help combat the plastic waste we generate. Simple measures have been put in place that will help combat plastic waste."
It is clear that while some may think these young people should be lessons, for them their future and the future of the planet was far more important.
They were not alone in staging a protest. Millions of people around the world took to the streets to unite against the crisis that will impact us all.