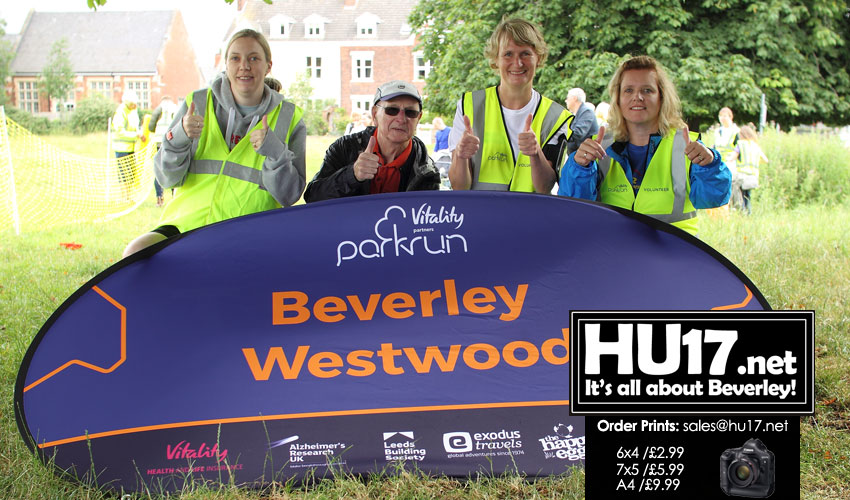 Organisers of Beverley Westwood Parkrun say the town has embraced the event. Their comments come just weeks after the event was launched in the town.
After 18 months in the planning with the support of East Riding of Yorkshire Council, Beverley Town Council and also the Pasture Masters, it continues to go from strength to strength.
In a statement released, organisers of the event said;
"Since launching on Saturday 13 July over fifteen hundred people have tested themselves on the pleasant but challenging pasture course. While on average of 338 'parkrunners' are turning out every week."
It is not just runners who are backing the event. There is also an army of volunteers, 44 on average, who are giving up their Saturday mornings.
Beverley Parkrun Proving Popular Just Six Weeks After Launch
Organisers of the event added;
"It may only be six weeks old but already 'BWp' is certainly becoming a regular routine for hundreds of people who jog, run, walk or volunteer."
"The parkrun phenomenon is a common sight all over the county every Saturday morning. However for a number of reasons Beverley waited a long time to join the party."
"Now that it's here though locals have wasted no time in getting involved."
"The impact on the Westwood and surrounding areas has been barely noticeable with parkrunners mostly arriving on foot."
"Those that do travel by car tend to use Grayburn Lane car park, 400m from the start area. BWp asks everyone to respect the pasture and also local residents by parking away from the Westwood."
"Toilets and post parkrun refreshments, including breakfast options, are provided by The Woolpack Inn on Westwood Road."
"The Woolpack also acts as a social hub not only on parkrunday (formerly known as Saturday) but also for monthly midweek social gatherings."
You do not need to be an experienced runner and you are also welcome to walk to the course.
Beverley Westwood Parkrun takes place every Saturday and is free to enter. Anyone wishing to tackle the course needs to register online at https://www.parkrun.org.uk/beverleywestwood/