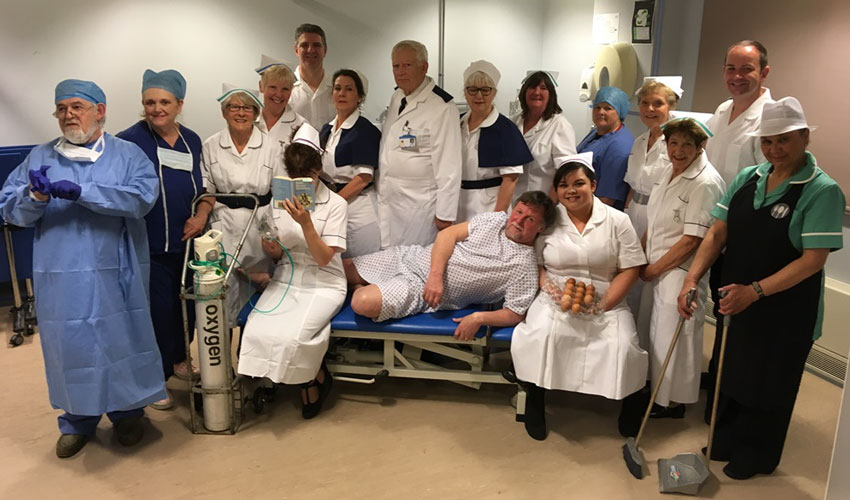 Resident Playwright and Hospital at Night Lead Nurse Steph Flanagan wrote and directed her first play, 'Egg White and Oxygen' which transports the audience back to nursing times in the 1980s, as a Trainee nurse dons her uniform for the first time to start her training. Due to popular demand, the play is returning on the 26th and 27th August.
This quick-witted play, features a collection of anecdotes and stories from members of staff in the days of mullets, legwarmers and good taste in music; back to a time when you had to stand when Sister walked in, students were never ever seen on the Consultant's round, Mrs Brown in the bathroom was your favourite patient and the kitchens at Kingston General made fresh scones daily. The days of Chemico, sleek, Cardexes and 'Egg white and Oxygen'.
Steph Flanagan, Writer/Director said: "I am delighted that due to the huge demand of the play we had no other choice but to show 'Egg White and Oxygen' again. I never expected the response we received, but on reflection it perhaps was rather apt it was written in the year of the tremendous celebrations of the anniversary of 70 years of the NHS and I wanted to portray how in my 30 years nursing has changed massively. I also wrote the play in the memory of my dad after he had passed away.
"I had never written a full-length play before, and they say you should write about what you know. I am immensely proud of my nursing career I have worked in the same Trust and seen many changes. The Trust has nurtured and encouraged me every step of the way and the money raised will support the Trust's WISHH charity and Martin House Children's Hospice, my dad's favourite charity. I am proud and in absolute awe of the support shown to myself and the cast. Get your tickets quick with all proceeds going to two worthwhile charities."
Both performances will take place at the Ryder Club, Coltman Street on Bank Holiday Monday 26th August matinee performance starting at 2pm and on Tuesday 27th 6pm.
Tickets are £13 each which includes a hot buffet and are available by emailing Steph direct stephflanagan2@yahoo.co.uk
Funds raised from the first shows have gone towards buying a portable breast scanner at Castle Hill Hospital.
A staggering 117 great reviews from the performance were received, including:
"It was a privilege to be able to see this fantastic production, I trained in 1986 and used 'Egg white & Oxygen' as a student nurse back then, what a trip down memory lane it was. I'll be booking again."
"You were all absolutely brilliant; I will pay to watch it again. I have not laughed so much or cried for such a long time. It brought back lovely memories of my training day's big style and my first few years as a staff nurse. What can I say loved it, fun, laughter a few tears absolutely great!"
"You were all absolutely brilliant it gave me such joy and to all who were lucky to get to see all the wonderful cast who tell a wonderful story of a superb caring family of nursing, it shows our privilege to look after people, the caring, the nurturing, the fun, the sadness but total professionalism."
"Brilliant acting and direction Steph Flanagan. Funny, poignant, thought-provoking, loved it! I started my nurse training in 1988 and I felt very nostalgic watching this #lovenurses #loveNHS".
WISHH – Working Independently to Support Hull Hospitals – was set up in 2016 to support Hull University Teaching Hospitals NHS Trust, which runs the hospitals.
Although the hospitals are part of the NHS, public funding has to be spent by the trust on patient care, treatment and essential equipment so WISHH funds "added extras" to improve the experience of patients and families.
Thousands of pounds donated by the public have already funded projects including a reminiscence cinema showing old footage of Yorkshire in the Department of Elderly Medicine and specialist equipment to help children with breathing problems in A&E.
WISHH is currently funding the redecoration of the children's ward and high dependency unit at Hull Royal Infirmary and has just arranged delivery of a mini Tesla, donated by Tesla car owners in Hull and the East Riding, to transport children from Hull Women and Children's Hospital to operating theatres ahead of surgery.