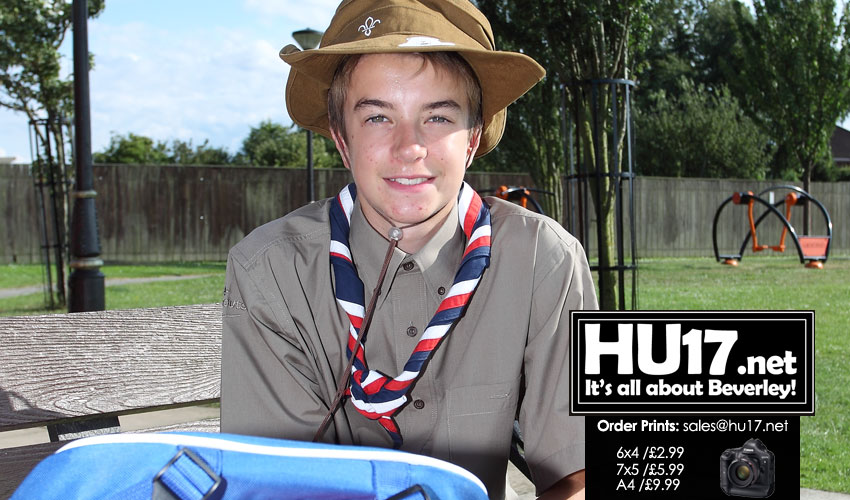 World Scouting Jamboree attendee Max Harris-Smith of 1st Walkington Scouts has expressed his thanks to those who have supported him over the past 18 months.
Furthermore, the youngster from Beverley has spent every moment of his free time raising the funds needed to attend the World Scouting Jamboree.
Taking place in the USA over 21 days, Max will leave the UK on 21 July. He was just one of 36 people to be selected from our region to represent the UK being held at the National Scout Reserve in West Virginia.
Speaking to HU17.net, Max explained how he has raised the money needed. He said;
"Some of the things I have done include coffee mornings at Toll Gavel Church, market stalls and have also packed bags."
"The local community have been very supportive. They have given me jobs to do and paid me well for them. Some of the jobs include gardening, washing cars, housework and also cleaning."
Max says this is a trip of a lifetime for him, he also says it will be an amazing experience.
To get to this stage he first had to be picked. Once picked he also had to raise the money needed.
The Scouts, which was founded in the UK have the motto Be Prepared. As a result of Max needing to Be Prepared for his trip, he had to go out and earn the money needed.
Scout Worked Hard To Raise Money For World Scouting Jamboree
Explaining more about the selection process and raising the money he said;
"The selection process involved an interview and team-building exercises. Once through that, I had raise £3,800 to pay for the trip. This money is to fund flights, kit and other things I which I needed to go."
"This fundraising was part of the process and I have had to log how the funds were raised."
Max has without question worked really hard to make this trip happen. While he can now look forward to his trip, he had a message for all his supporters, he said;
"I would like to say a big thank you to everyone as I could not have done without them. The support people have given me has been great."