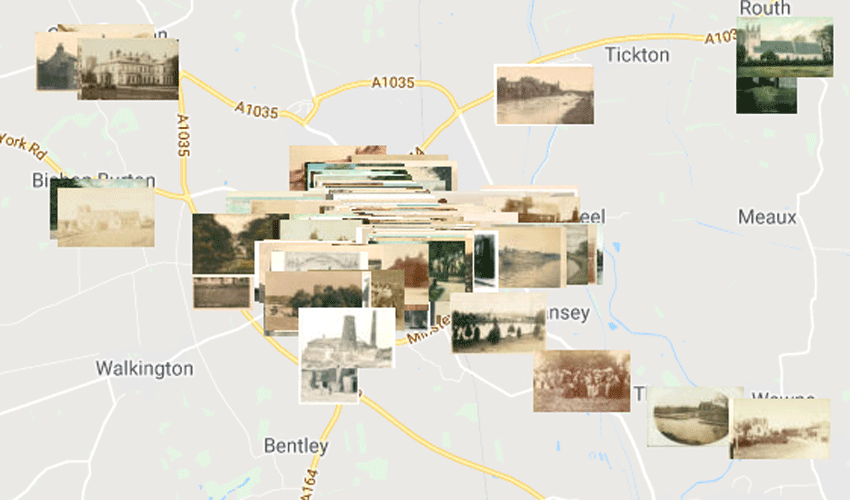 East Riding Archives has created a new, free app that turns smartphones or tablets into virtual 'time machines'.
'What Was Here?' uses historical photos from the archives, plotted onto a Google Maps base map, to show users literally 'what was here' at their location and elsewhere across the East Yorkshire region.
Archivist and project creator, Sam Bartle, said: "The 'What Was Here?' app lets you see available historic photos that are relevant to where you are standing. This means that you can use the 'What Was Here App' map to do a self-directed exploration of your local area and see how it used to look. It gives you a window to look back through time – a window on the past."
The app also features heritage trails that guide users to various points of interest, where they can use their device's camera to overlay the featured historic image on top of the modern scene and get a feel for how it looked in the past.
One such heritage trail is currently part of the Sewerby Hall and Gardens visitor experience (admission charge applies), whilst others will be linking in with forthcoming festivals and events in the area. New heritage trails will be coming soon to other towns or villages in the East Riding.
What Was Here App Is Very Cool
Sam Bartle added: "If you really like what you see, you can buy prints of selected images by following links through to the East Riding Photos website."
Councillor Shaun Horton, the portfolio holder for tourism, culture and leisure, said: "The 'What Was Here?' app is a very cool, virtual time-travelling tool, and our residents can help make it even better. The initiative is also a crowdsourcing project, and if you have your own historic images, you can donate them to East Riding Archives for eventual upload onto the 'What Was Here?' platform.
"We're only as good as our archives collections, or the images that we're able to upload, so 'What Was Here?' is also a people's project, in which the public can help us to grow the content of the map. People can contribute by donating images to the project, and suggest corrections to location coordinates, so we can get our images as pinpoint accurate as possible and maximise the visual effect of comparing past with the present."
'What Was Here?' is free and available now on the Google Play Store and the App Store. Check out the accompanying website at www.whatwashere.org