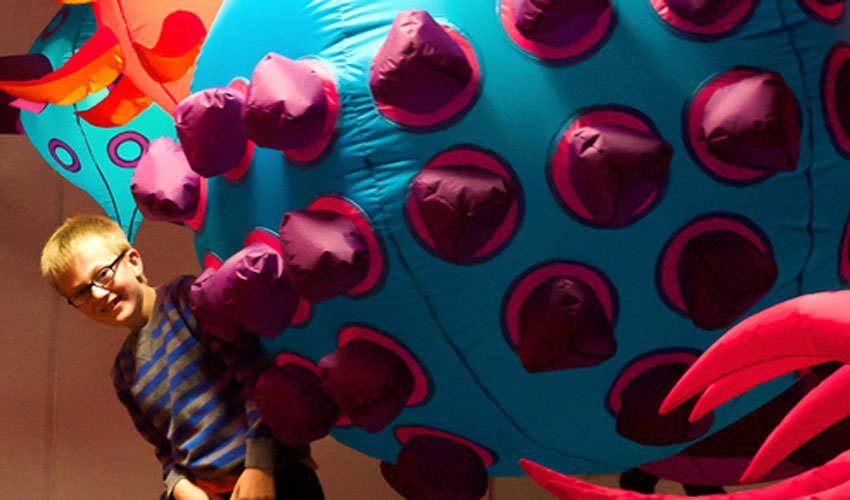 Microbes is the Ferens Art Gallery's family-focused summer exhibition which opens on Saturday 18 May.
It promises to be an engaging sensory landscape of giant inflatable microbes, allowing children to learn more about microbes as well as have fun.
This brand new exhibition will bring to life the detailed miniature world of micro-organisms, asking us to look at our bodies differently – exploring the micro and making it macro.
Inspired by the beautiful microscopic imagery of bacteria and cells that live within us, Microbes will be full of delightful and unexpected happenings. Visitors are encouraged to walk among the vibrantly colourful microbes and see what unfolds. Feel as the suspended forms sway around you and watch as them slowly deflate and then inflate as if breathing, creating a mesmerising display.
The Microbes exhibition is complemented by an exciting programme of events aimed at families and young people. Baby sensory sessions for, ages 0-3, will encourage our youngest visitors to sing and play, the first one is on 21 June.
Musical Microbes, for over 5s, will allow young visitors to explore the exhibition through movement and music. Sensory Explorers is an artist-led workshop developed for children and young people with autism. To find out more about our events programme and to book tickets see our website: www.hcandl.co.uk/ferens
Within the exhibition space, there will also be a reading corner for young children wanting to learn more about the science of microbes, a sensory basket and drawing activities. Family activity packs will also be available to pick up throughout the exhibition. These free backpacks will provide a variety of sensory resources to encourage families to explore Microbes with fresh eyes.
This free exhibition will run from 18 May to 1 September 2019 in Gallery 4. The Gallery is open Monday to Saturday, 10am to 4.30pm, and Sunday, 11am to 4pm.