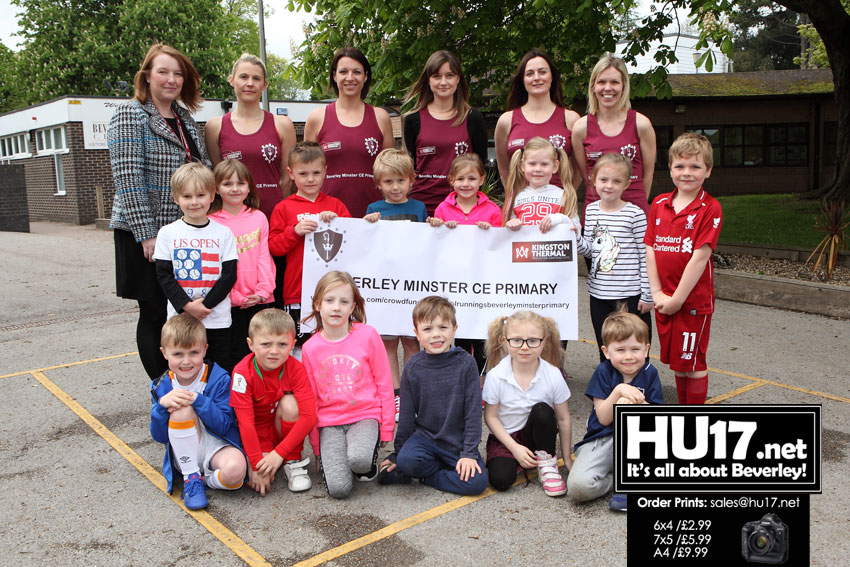 9 mums from Beverley Minster CE Primary School are completing between them 3 10ks, 1 half marathon and 2 marathons.
They are undertaking the runs as they look to raise money to buy a new outdoor learning area for their children's school.
The 9 mums will be running the Beverley, Hull and Walkington 10ks. They will also be taking part in the Humber Bridge Half marathon, Hull marathon relay and the Hull marathon.
Each of the mums has their own reason for taking on the challenge. Michelle Moody, who has organised the challenge, said;
"As a teacher, I know how challenging it can be to raise money in schools and thought that through doing a series of sponsored runs we could raise the profile of the school and also generate some fundraising, in addition to demonstrating to our children the importance of exercise."
Laura Bassett, who will be running the Beverley 10k, Humber Bridge Half marathon and the Hull marathon relay. She only took up running last year. Laura has two children at the school.
She said;
"I've never run that distance before. But if the children can benefit from what we are doing then the hard work in training will be worth it."
Mums Take Up Running To Help Deal With Their Overall Well-Being
Many of the mums say they've taken up running to help with their mental as well as their physical well-being.
Joanne Hastings has three boys at the school and says running has helped her overcome depression.
She said;
"I don't think I'd have survived the last 3 years without fitness and exercise to help keep my mental health in balance."
The team consists of Michelle Moody, Rebecca Hunter, Rebecca Meilhan, Jenny Henderson, Gemma Horsley, Caroline Walker, Suzy Rawling, Laura Bassett and Joanne Hastings.
Their first run will be the Beverley 10k on Sunday 12 May. To start the mums off on their challenge the entire school came to school dressed in sportswear on Friday 10 May.
Children are being asked to make a minimum donation of £1. They will also be taking part in running activities in their lunch break.
In all the mums are hoping to raise £2,000 to go towards building a new outdoor learning area for the school.
The team would like to thank Thermal Insulation Contractors who have sponsored them £250 to pay for running vests and a banner.
Headteacher Rachel Hatter said;
"At Beverley Minster C.E Primary School, we aim to inspire and encourage all our children to take part in and enjoy sports."
"We recognise the positive benefits sport has upon our health and mental well-being. We are proud that we have parents who are also excellent role models to our children by demonstrating perseverance and commitment when faced with a challenge."
"Everyone would like to thank them for their support and are delighted that they are raising funds for an exciting new outdoor classroom area. We look forward to cheering them on when they run!"