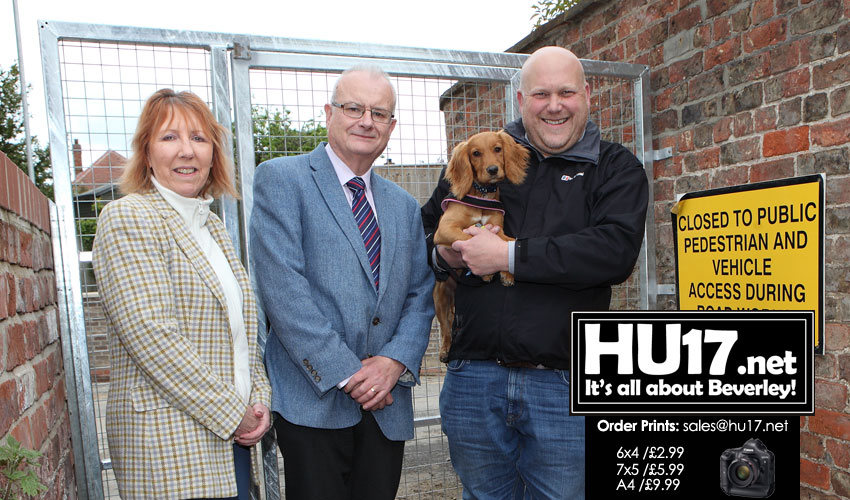 Beverley Town Council's new Liberal Democrat councillors have intervened in the row about a new gate that has been erected by Peter Ward Homes.
Installed on Gallows Lane, residents had complained that an ancient right of way has been blocked. They also say access is only being provided to the residents of the new luxury homes.
St Mary's ward councillor Denis Healy says he has raised the issue with the Council.
Commenting on the gate, Cllr Healy said;
"The Council's Countryside Access Manager is telling us that Gallows Lane is a private road and has no recorded public rights."
"Peter Ward Homes has apparently applied to the Council to adopt the road. This will mean that the cul de sac path will be connected to the vehicular highway, enabling residents to use the footpath to get to the Westwood."
"The Council are also saying that this is a temporary measure to reduce the safety risk to the public as this is a construction site. However, we still have some serious concerns over this."
Newly elected Lib Dem Beverley Town Councillor, Simon Rance is a dog walker. He raised his concerns also saying that a right of way needs to restored as soon as possible.
He said;
"There's evidence of a Public Right of Way on Gallows Lane going back to at least 1861, possibly long before that."
"We need to do all we can as a town and ward councillors to make sure East Riding Council restore public access quickly."
"Furthermore, we need to make sure that the developers and the Council aren't allowed to sweep this under the carpet. They cannot be allowed to kick this into the long grass."
Local Councillors Want To Offer Residents Assurances Over Gallows Lane Access
St Mary's ward councillor, Linda Johnson says she is worried that access will not be returned. She also raised questions over the developers logic, she said;
"The Council seem to have taken at face value the developer's claim regarding health and safety. The developer has created a marketing suite right next to the gate."
"Are they really concerned about health and safety, or is it just about selling more houses? I am worried that this path will never re-open unless we make a fuss, so that's what we are going to do."
Peter Ward Homes have again offered assurances. They say the gate is there purely as a health and safety measurement. They also add that before the gate was installed they had tried other measures.
Currently, the Old College Site is an active construction site. Due to the movement of large heavy goods vehicles, the developer feels this is the best measure they can take to ensure public safety.
Peter Ward Homes also add once they hand the road to the council it will be up to the local authority to restore access.
They said;
"Peter Ward Homes have genuine concerns over the safety of residents and also children who used the road. As a result of the other measures being ignored, we felt this was the best solution to avoid any accidents."
The Old College comprises of 36 high-end homes. To date, a third of the homes are already occupied by residents.
Development on the site started in 2016 after East Riding College relocated to a new purpose-built campus located at Flemingate.