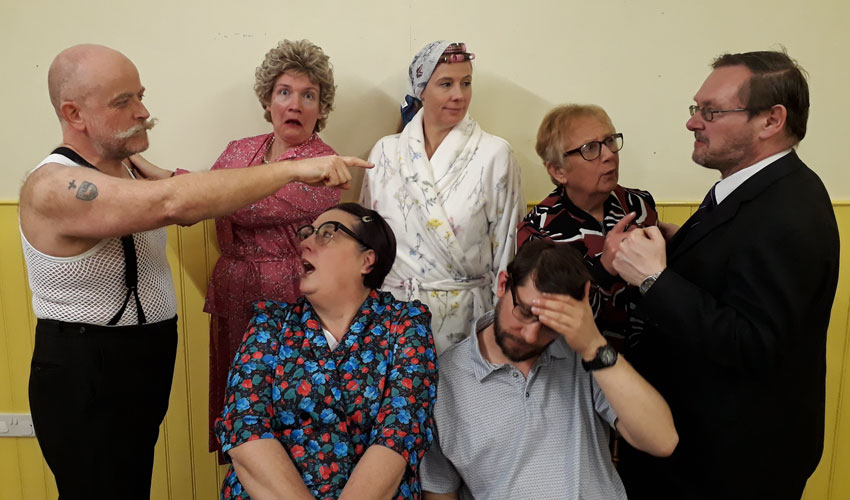 Beverley Theatre Company will be performing the hilarious comedy Sylvia's Wedding next month at the Beverley Memorial Hall.
Written by the renowned Jimmie Chinn, Beverley Theatre Company will stage performances from 5 to the 8 June.
Sylvia's Wedding tells the story of Gordon who suddenly decides to propose to Sylvia after ten years of dating. His decision to propose throws his own family and that of his brides to be into turmoil.
Joyce and Vic, Sylvia's parents, are hardly the sort of people Gordon's pompous father Stanley wants his family connected with while Vic feels much the same way in return.
Sylvia's best friend, Yvonne, isn't much help either. She is all too ready to deflate Sylvia's joy with her cynical, world-weary comments.
Myrtle, Gordon's mother, is quite looking forward to making the dresses and sorting out the catering. The same can not be said for Joyce who is more concerned about looking after Hoppy, the one-legged budgie.
Against the odds, the two warring families cooperate with the wedding preparations. While everything looks to be going like it is going well Fate intervenes.
Will the wedding go ahead? Will the secret of Stanley's trips to Skegness be revealed? Most importantly, will Joyce's toilet ever stop flushing?
The spirited comedy of the early scenes gives way to bitter irony and poignant emotion. It is written with all of Jimmie Chinn's customary wit, humanity and keen observation.
With a script reminiscent of a multitude of favourite sitcoms, These include The Royle Family, Keeping up Appearances and A Bit of a Do. There is certainly something for everyone in this production.
Sylvia's Wedding Cast Will Feature Old Favourites
The cast comprises old favourites Emma Drew, Colin Walls, Nev Slater, Tony Musgrave, Angela Chapman and also Pat McKenzie.
There is also a debut from Jo Harding while the directors of the production are Paul Thomas and Colin Walls.
The play will be performed at 7.30pm, from Wednesday 5 June until Saturday 8 June at the Beverley Memorial Hall.
Tickets for all performances are priced at £8 for adults and £7 for concessions. While you can also buy a family ticket for £20.
Anyone wishing to attend can purchase tickets from the Tourist Information Centre at the Treasure House and from EweMove. They can also be purchased online at www.beverleytheatrecompany.com