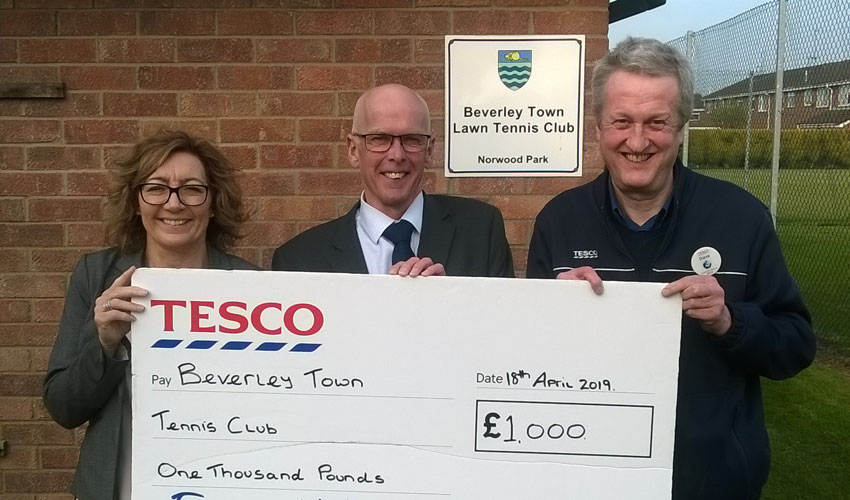 Beverley Town Tennis Club won £1,000 in the Tesco Bags of Help scheme, money they say will be used to help resurface a court.
During the months of January and February customers at the Tesco on Morton Lane voted for the club and their project.
As a result of their support, the club was awarded £1000 to help pay for their resurfacing project.
Members of the team from Tesco visited the Norwood Recreation Ground where they presented the club with a cheque. While there they also learned more about the project.
Paul Barnett, Club Captain, said;
"On behalf of Beverley Town Tennis Club can I thank Tesco and all of the customers that supported our Bags of Help application."
"Due to their support it has raised £1,000 towards the cost of re-surfacing our tennis court."
"The club was formed on 25 March 1919 so in our Centenary year, our ambition is to upgrade the facilities at Norwood Park."
The club originally had to play on the cricket outfield until some land was purchased adjoining the cricket pitch. As a result of this purchase, it gave the tennis section home of their own.
Beverley Town Tenis Club has a men's team and a mixed team in the Driffield and District Tennis League.
They encourage junior tennis too with coaching sessions held on a Friday evening. Also, the club has an open evening on a Monday when new members can come and play – the first session is free of charge.
Membership fees to join Beverley Town Tenis Club are just £72.50. This fee also entitles members to play any of the other sports that the club.
As a club, the other sports offered include cricket, bowls, squash, racketball and football. Also, it has a friendly bar and clubhouse.
Furthermore, The Norwood Recreation Ground is the perfect venue for people looking to host a function by hiring their facilities.
Membership details can be obtained from Ros on 07807 690579 or Nancy on 07794 980935.