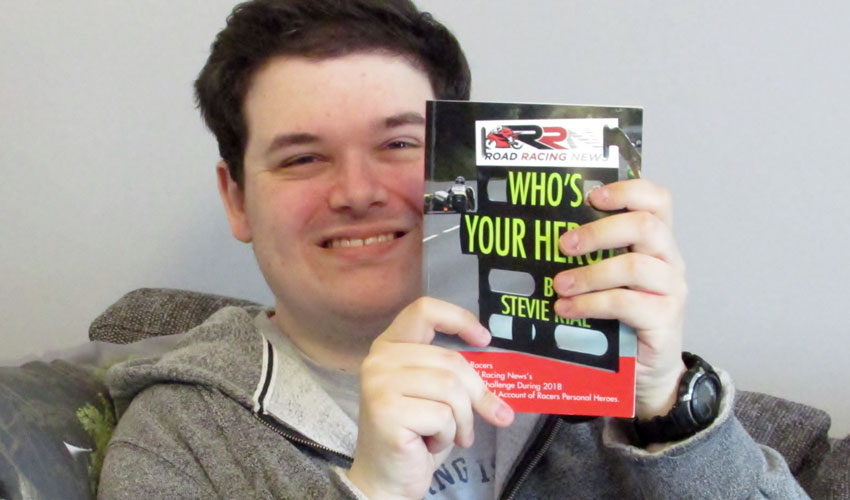 In 2018, Stevie Rial from Beverley, owner-editor of Road Racing News, interviewed 365 road racers with his 'Ten Question Challenge' on www.roadracingnews.co.uk.
The huge success of the challenge inspired his first book, Who's Your Hero?
Stevie Rial is a Real Road Racing Journalist. A leading contemporary light in the world of real road racing with an undeniable established writing talent.
He is considered one of the prime contact sources of information and knowledge on real road racing within the media, a rarity from someone so young.
Who's Your Hero? A literacy piece of history, documents unique quotes anthology put together to show the world the positive side of road racing. As heroes are never forgotten.
Speaking about his book, Stevie explained why he took on the challenge of writing about 365 racers, he said;
"I always like to challenge myself and achieve something specific. So an interview for each day of the year and something for the history books."
"Identifying the interviewees and collating their answers was the hardest job. Along with compiling all the information together to put into articles."
"The challenge had a touch of a fly on the wall documentary feel about it. A window on road racers to a worldwide audience. I really enjoyed chatting to all 365 road racers and highlighting their careers."
"All citations in the book are special and unique, an essential read for any motorsport aficionado."
Legend and ten times TT winner Ian Lougher said;
"So many different eras of racing to choose from but Wayne Rainey on short circuits and Steve Hislop, Joey Dunlop and Charlie Williams on the roads."
You can buy 'Who's Your Hero?' by Stevie Rial online at www.roadracingnews.co.uk priced £10.00 plus Postage.