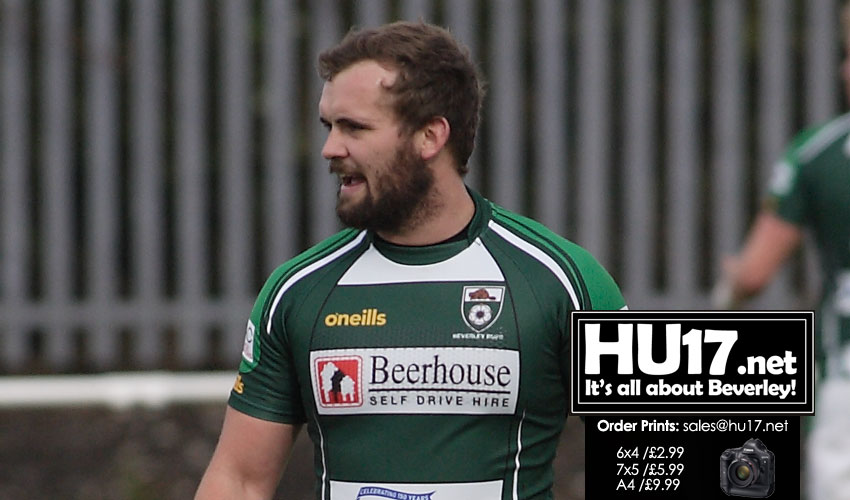 After fifteen minutes this match looked certain to end with a comfortable bonus-point win for Beverley. After eighty minutes they had been soundly beaten and deservedly so.
Their game fell away to an alarming extent as the match wore on – perhaps not becoming quite as dire as the shambles at Hullensians but not far off it.
Yet they started well enough. Some of the back play was as scintillating as anything we have seen this season. They opened up the home defence almost at will with some thrilling inter-passing. A lovely run by Theo Richardson in the opening minutes would have brought an early try but his final pass to Jack Foster went into the hands of a retreating defender. It seemed nothing more than a minor blip because Beverley were in total control, winning numerous balls against the head and taking the ball on Keighley throw-ins at the lineouts. Beverley were enjoying almost unlimited possession and clear-cut chances kept coming although they did not produce any points.
Phil Duboulay did get them going with a penalty but two penalties by home skipper Alex Brown surprisingly turned the lead round. Until Duboulay levelled it with his second shortly before halftime Beverley against all the odds remained behind. To make matters worse their early sparkle was rapidly fading, and an increasing number of basic errors and loss of cohesion was creeping into their game. In injury time at the break, an ill-judged pass in midfield was seized on by Keighley centre Sean Kelly who romped away from halfway to score the game's first try, totally against the run of play.
Turning around 11-6 down Beverley started the second half camped in home territory and after ten minutes did recapture the lead with a penalty try, awarded after a deliberate knock-on had brought Keighley their second yellow card of the match. It was as good as it was going to get for Beverley. Thereafter Keighley got more and more into the game as Beverley's play increasingly fell apart. They had lost coach Will Turnbull at halftime with a damaged shoulder which may have contributed to their losing their way. In any event for most of the second half, they could hardly get their hands on the ball and looked increasingly rudderless when they did.
As the game progressed Beverley's slender lead looked more and more vulnerable. Wave after wave of Keighley attacks bore down on them and only some stout defending kept Keighley out. Eventually, after pounding the Beverley line for some time, Keighley re-took the lead when scrum-half Lucas Uren picked up from a ruck five metres out and scampered over. At 18-13 a converted try would still have been enough to get Beverley ahead again but the likelihood of their getting one was looking less and less likely. With the game entering its final quarter a Beverley penalty failed to find touch, Keighley counter-attacked from their own 22, won a penalty, and Brown promptly kicked the goal to put them two scores ahead at 21-13. By then it was just about what we might have expected.
Keighley's remarkable resurgence as the game wore on was no less surprising than Beverley's alarming demise, given how overwhelmingly Beverley had outplayed them in the first quarter. The dominance at the end was so marked that it came as little surprise when Keighley wing Josh Slingsby broke away from thirty metres out to touch down for a final try with the last action of the match.
All Beverley had to show for their endeavour, and the numerous chances they had had when they controlled the match, was nothing more than a single penalty try which just about summed up their afternoon. Rhys Innes had another impressive game in the pack, Foster showed plenty of determination on the wing and Liam Butler tackled splendidly when he came on for the second half but for most, not least the travelling spectators, it was a day best forgotten.
Final Score: Keighley 26 Beverley RUFC 13 | Reported by John Nursey