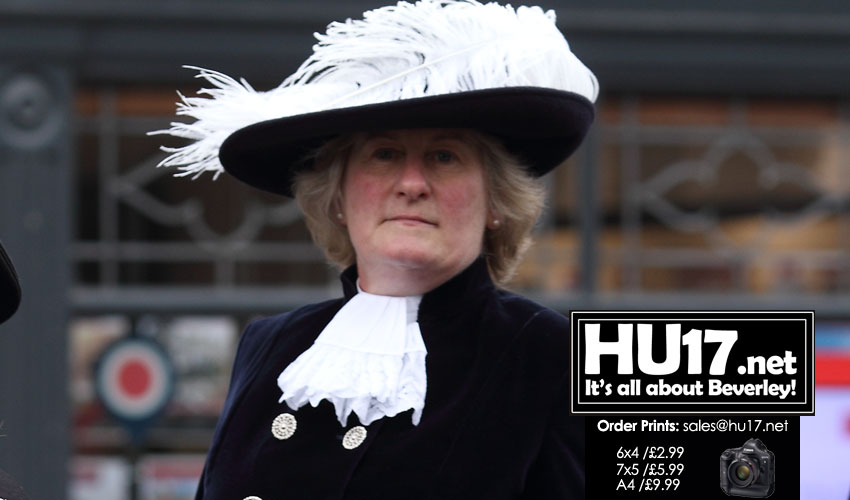 Rev Becky Lumley says that is was a real honour to host the High Sheriff of the East Riding of Yorkshire Service of Thanks Giving at St Mary's Church.
Over 350 people attended the service which was held at St Mary's Church on Sunday.
Speaking to HU17.net Rev Lumley said;
"It was lovely to welcome the Debbie Rosenberg, the High Sherriff to the church for the Legal Service."
"The service was one of Thanks Giving and was attended by guest from the legal profession. Those who attended included Lawyers, Judges and police officers."
Ahead of the service, a parade was held in the town in the town which also saw the Mayor of Beverley, Cllr Bryan Pearson take part.
An entourage of guests led by the Humberside Police Band paraded from North Bar Within to St Mary's Church.
Rev Lumley added;
"Hosting the service at St Mary's Church was a real honour. For the High Sherriff to chose St Mary's Church for this service shows we are valued in the community. It also shows the connection we have with the community."
"This was a very traditional service. It was a service of prayer of thanksgiving for the work these people do in the community."
"It was the first time I have conducted such an event and the first time in many years it had been held at St Mary's Church."
High Sheriff Supports Local Charities Within The Region
Furthermore, the Office of High Sheriff is the oldest secular Office in the United Kingdom. After the Crown, it dates from Saxon times.
High Sheriffs actively lend support and encouragement to crime prevention agencies, the emergency services and also the voluntary sector.
Many High Sheriffs also assist Community Foundations and local charities working with vulnerable and other people both in endorsing and helping to raise the profile of their valuable work.
Mrs Rosenberg has also supported a number of local charities during her year in the role. Here in Beverley, she supported an event held at St John's Primary school by the charity, Hull and East Yorkshire Children's University.