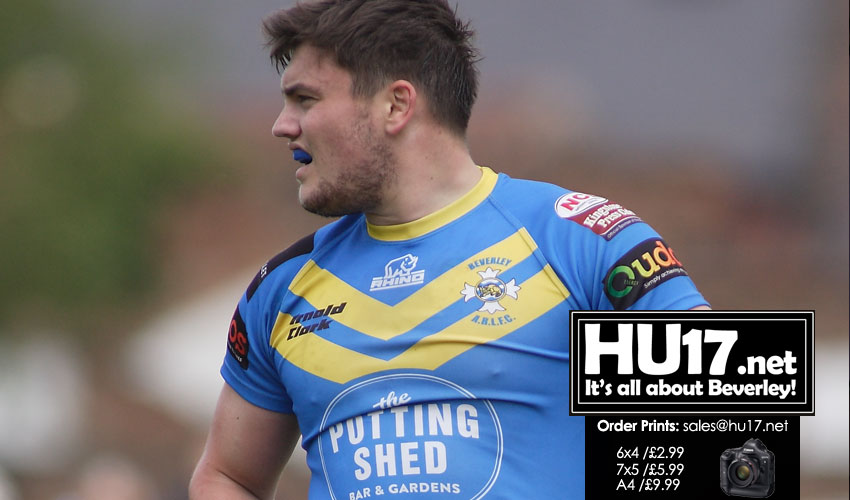 The blue and golds were denied by an injury time drop-goal in his thrilling local derby against Hull Dockers on the opening day of the new season.
Last seasons NCL Division two champions were left to rue a number of handling errors as they were beaten 19-18.
Afterwards, the host's chairman Des Harrison commented " It was great to see so many people down to the Willows today to see such a good game. It is just what is needed to get this game back on track locally."
In terms of possession, it was a game of two halves. Hull Dockers had the lion's share of it in the first half. This was combined with an accurate kicking game which forced 4 line drop-outs.
Dockers opened the scoring after 10 minutes courtesy of a Chris Lythe improved by Dan Suddaby. Beverley's reply was swift as Lewis Poskitt's teasing cross-field kick saw Alex Starling leap to score and Lewis Straw to convert.
Beverley could not maintain much pressure. They continued to work overtime in defence as they failed to complete sets.
Another cross-field kick was fumbled by Beverley and Peter Holmes pounced to score wide out. The conversion was not added and interval saw Hull Dockers lead 10-6.
Jack Howdle Named Man Of The Match Against Hull Dockers
The early minutes of the second half saw Beverley noticeably step up. In the 48th minute, a Lewis Straw kick hit a Dockers defender and bounce into the hands of Luke Inglis to score. Josh Poskitt converted.
The lead was very short-lived as Beverley fumbled the re-start kick. The resulting set saw Craig Cook force his way over for the hosts improved by Suddaby. Suddaby then added a penalty to stretch the score to 18-12.
Jordan Precious's towering bomb was then plucked out of the air for Alex Starling to add his second try in the 71st minute. Straw then levelling the scores with the extras.
In the closing minutes, there were opportunities for Beverley. Jack Howdle's powerful run across field saw him unlucky not to ground the ball. Lewis Straw also saw a drop-goal attempt go wide.
However, the home side had the last word and Craig Cook got the vital drop-goal.
Beverley did regain possession from the re-start and swung the ball around in desperation but could not force a winner.
Beverley's man of the match was Jack Howdle in a game that Scott Taylor will see the potential for his side but will rue a few handling errors.