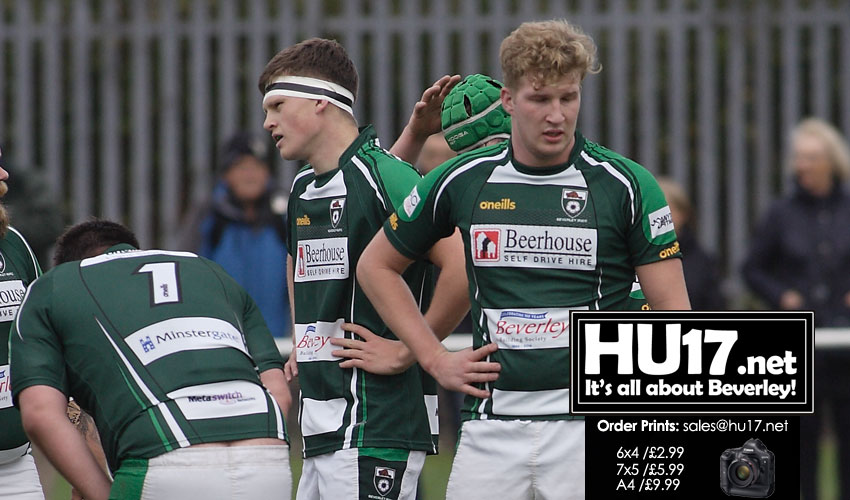 Dinnington beat Beverley RUFC to end their hopes of reaching the playoffs. A match that fans will hope passes quickly from the memory this was a tedious game to watch.
Dinnington clearly set out to frustrate Beverley at every turn and prevent them from playing any sort of expansive game.
Their objective seemed to be to play the game edging forward with one crash ball after another through their heavyweight pack thereby setting up interminable rucks. It wasn't pretty but it was effective and in the end, it won them the match. Beverley for their part could seldom get going and when they did the ball was invariably knocked on or lost, resulting in yet another lengthy spell of Dinnington mauls and rucks.
After six consecutive bonus-point victories, Beverley were brought back to earth here. This fixture always had the potential to be a banana-skin for Beverley and so it proved. The disappointment was not so much that they lost the game but more the manner of the defeat.
Plenty of good situations were wasted through poor handling, poor kicking and increasingly poor discipline. The backs could never get going and most of what progress was made came through forward endeavour, in which Alfie Hart-Fisher and Danny Morris were often prominent. There was no holding back in the tackling either and Rhys Innes, in particular, had a good game both in the loose and the line-outs.
Beverley Winning Run Ended By Dinnington
Beverley started badly and things went from bad to worse. They fell behind in the sixth minute when a crossfield kick from a Dinnington penalty lineout ten metres out was gathered by full back Matt Shaw who touched down for a try which fly-half Jonny West converted.
Beverley were playing with the slight slope and for a time it looked likely that this early reverse would be no more than a blip. For a quarter of an hour, they had nearly all the play and it looked odds on that they would start scoring. Luke Hazell nearly got there with a run down the left touchline and a fine break on halfway by Alex McPeake should have brought a try but the final pass went to ground.
Several more good scoring chances came and went with the ball being lost or knocked on and the frustration began to grow. Eventually, from a five-metre scrum, Phil Duboulay did dummy his way over for a try which he converted to level the scores.
After turning around at 7-7 Beverley might have cut loose with their speedy backs in the second half. But sadly play continued with the same relentless ruck after ruck set up by the home forwards. If it was all pretty frustrating for the players it was no less so for the travelling spectators.
A strong crosswind did not help, partly because every time the ball was kicked into touch it blew away down the adjacent hill, and as only one ball seemed to be available there were lengthy delays while a small boy set off to retrieve it.
Beverley Pay The Price For Poor Discipline at Dinnington
Beverley did come close to scoring on several occasions but they could find few openings. As the game dragged on at snail's pace, with numerous stoppages for Dinnington injuries now added in, it seemed certain that one more score either way would settle it.
When the chance eventually came it fell to Dinnington who were awarded a penalty for Beverley dissent and West slotted the ball from in front of the posts. A single try could still have won it for Beverley but they could get nowhere and in added time the Dinnington pack drove over from a lineout to deny Beverley even a losing bonus point.
So any lingering chance of Beverley making the playoffs has now evaporated. Apart from the generous hospitality visiting clubs always receive at Dinnington the only consolation they could take from a pretty wretched day was that this week the team coach broke down before it left Beverley instead of halfway along the M62.
Final Score: Dinnington 15 Beverley RUFC 7 | Reported by John Nursery