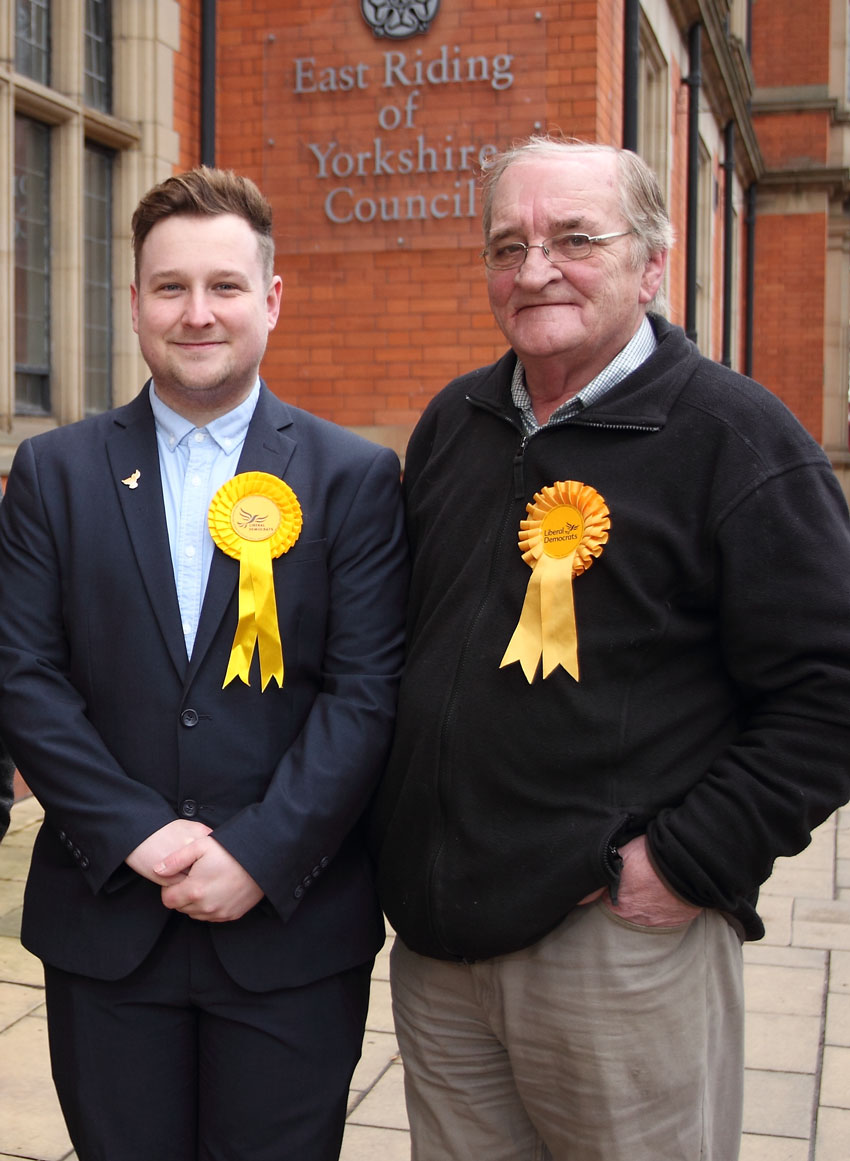 Two high profile local councillors have made the switch from Labour to the Liberal Democrats. Cllr Peter Astell and Cllr Tom Astell made the switch bringing with them a wealth of experience.
Their move has certainly been welcomed by Cllr Denis Healy. He also confirmed the pair would be contesting the Minster Woodmansey seats in the upcoming local elections.
Cllr Peter Astell, who has served two terms as Beverley's mayor says that Labour is no longer a party of values. He also adds that he no longer recognises the party he served so loyally for decades.
Speaking of his move to the Liberal Democrats, Cllr Astell said.
"I like the open values of social justice, fairness and concern for the vulnerable demonstrated by the Liberal Democrats. Here in Beverley by their sheer commitment to local issues, working hard and trying to get things sorted out for local people."
"As a party, it is a breath of fresh air in comparison to the dead hand approach of Labour's intolerance, and Tory councillors who just take Beverley for granted."
"The behaviour of Conservative councillors elected in Minster and Woodmansey says it all really."
"People deserve so much better than that. It would be a travesty if the only alternative is the hard face of Labour intolerance."
His views shared by his son Tom Astell who has also made the switch from Labour to Liberal Democrats. Commenting on why he swapped parties he said;
"I have since sat as an independent Councillor on Beverley Town Council. Last year, after much deliberation I took the step to join the Liberal Democrats."
Liberal Democrats Only Party Who Can Defeat Tories In Minster and Woodmansey
"They are a tolerant, open-minded and progressive party. The local Liberal Democrats campaign for a better Beverley by working hard all year round, not just at election times."
"I'm looking forward to taking on the Tories in May. Labour doesn't stand a chance in Minster and Woodmansey. The Labour party are unorganised, ineffective and not ready to stand up to the Tories in County Hall."
"The Liberal Democrats are the only party who can beat the Tories in Beverley and Woodmansey."
Cllr Healy said;
"I'm glad that Peter and Tom have come on board with the Liberal Democrats in Beverley."
"They are very keen to serve of Minster and Woodmansey. In contrast to the Labour MPs who defected to the new Independent group, they will need to win the hearts and minds of voters at the ballot box."
"Politics should be about decency and also helping people be the best they can be. It's clear from what's been going on, that Labour is rapidly losing the support."
"It's a sad day for Labour when a man of such high integrity and local standing as Peter feels at the end of the road with a party he has served all his life."