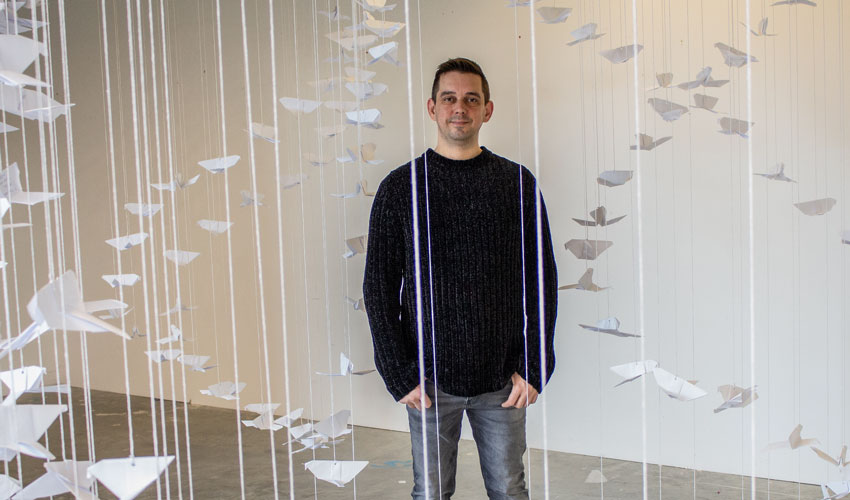 A community art installation at Beverley's Flemingate centre is spreading messages of hope and peace for the year ahead.
The project, entitled "1,000 Origami Doves of Peace", saw members of the public and local school children create folded paper doves, each with an individual message of hope and positivity are hidden inside.
Beverley-based artist Chris Kidd created the art project based on a Japanese legend to encourage people of all ages to promote peace, tolerance and hope over the festive period and beyond.
Japanese legend has it that if someone folds 1,000 origami cranes, their wish will come true. The legend has also evolved to become a symbol of hope and healing during challenging times.
Chris said: "The project launched in December and we reached our target of 1,000 doves just after Christmas, which was fantastic.
"We based the project on the Japanese 1,000 cranes legend but used doves instead of cranes to symbolise peace.
"We were pleasantly surprised that, despite the run up to Christmas being such a commercial time of year, the messages written in the origami doves were full of compassion, peace and understanding for the wider community and the world."
Chris added: "The project was very uplifting – it encouraged people to reflect on issues affecting themselves, their families and their community and encouraged them to think about others.
"Teenagers from East Riding Voluntary Action Services' Volunteen project did a great job of teaching people how to make the paper doves and also bringing Christmas shoppers into the unit to have a go.
"Pupils from nearby St Nicholas Primary School also got involved and the school kindly donated some of the materials needed to create the art installation.
"It has been such a worthwhile project – everyone who created a dove was able to learn a new skill and also take a moment to stop and think about a message of hope and peace for the future."
Chris and fellow artist and business partner Mikey Mathieson run social enterprise The Creative Lab, which provides a creative retail space for artists, makers and designers at Flemingate. The 1,000 Origami Doves of Peace installation is on display every weekend in a unit opposite The Creative Lab.
Jo Bridgeman, Flemingate's Events and Marketing Manager, said: "The 1,000 Doves of Peace art installation looks fantastic.
"Not only were people able to create something physical, but they were also encouraged to pause from their busy lives and write a personal wish or message on the wings of a paper dove.
"The exhibition is open every weekend and is receiving lots of visitors, which is wonderful to see. The space creates a calming effect which, after a hectic Christmas and New Year, is very welcome!"