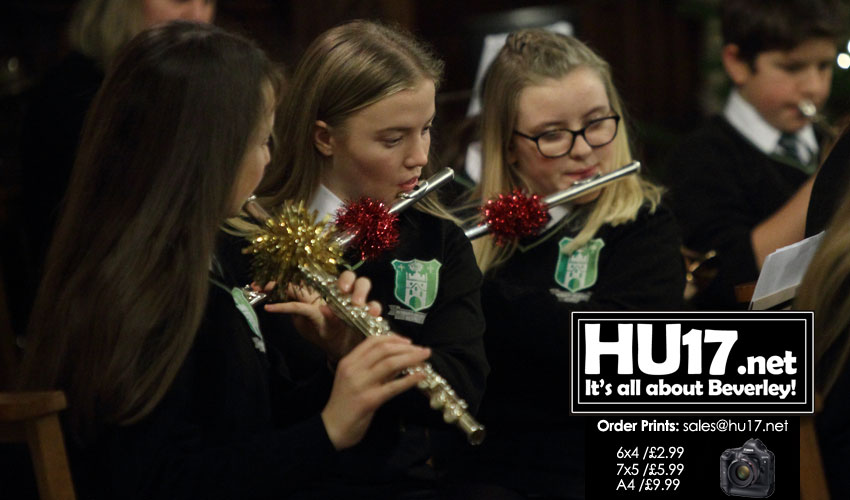 The Longcroft School Christmas Concert was held at St Mary's Church in Beverley and proved to be a real hit.
Pupils from the school provide a full programme of festive entertainment to hundreds of people.
An annual event, the Longcroft School Christmas Concert featured a range of music and readings by staff and students.
Highlights on the night included a vocal duet by Gemma Underwood and Joel Walker who performed Mary's Boy Child.
As always the event was very well supported by friends and also family members of the students. They too were involved and invited to join in with a number of carols.
Proceedings on the night got underway with the Gospel Choir who performed Once in Royal David's City. The Year 11 GCSE group were next up adding some festive cheer as they performed White Christmas.
Following a reading, the Wind Band under the watchful eye of Mrs Harris played three pieces of music. Winter Wonderland, Walking in the Air and Christmas Potpourri.
A special mention should also go to Head Boy Tyler Wild. He delivered an excellent reading of Granny Goes to Bethlehem.
Following the solo duet, it was the turn of Year 11 students Niamh Collins and Megan Ferguson. They read The True Meaning of Christmas.
Further music was then performed by Year 7 and 8 students and also the school's Chamber Choir conducted by Ms Dave.
The Longcroft School Gospel Choir were the final act of the night. As ever they put in a sterling performance capping off what was a very good festive event.
Longcroft School Christmas Concert Showcases The Musical Talent At The School
It has to be said that really was a great event put on by the school. They yet again produced a top quality event while the music of a very high standard.
Also for the school, this event signifies the start of the festive period. It is a chance for the teachers and pupils to share the season of goodwill with each in the wonderful surroundings of St Mary's Church.