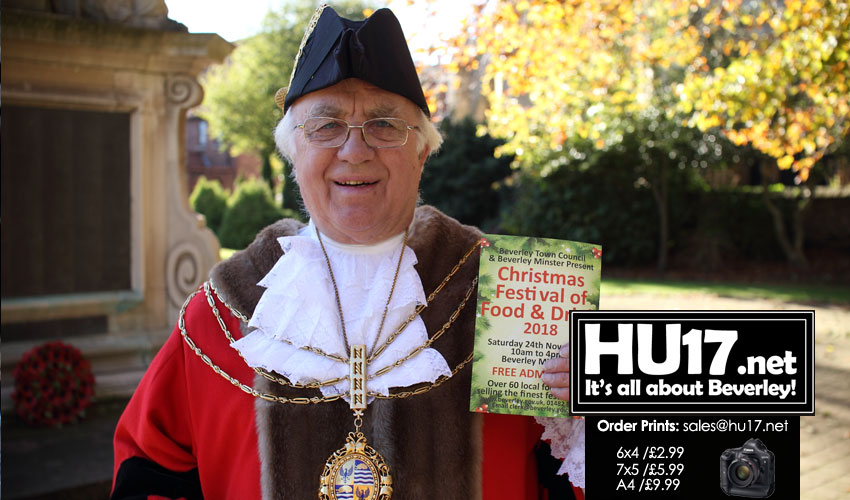 Beverley Minster will be a hive of activity this Saturday as they play host to Beverley Town Councils Christmas Food and Drink Festival.
Now in its sixth year, the event continues to grow in popularity attracting thousands of visitors. Featuring a range of stalls and entertainment, there is plenty to do for all the family.
Mayor of Beverley Cllr Bryan Pearson is encouraging residents to come and along and enjoy the day.
He says the event is a good opportunity for descendents to stock up for Christmas while also helping Beverley Minster raise funds.
Speaking ahead of the event Cllr Pearson said;
"This will be the biggest indoor food festival that Beverley Minster has seen. We work in partnership with Beverley Minster to hold this prestigious local food event. It is going from strength to strength every year," said Cllr Pearson. "It helps to showcase the large variety and high quality of local food the area has to offer whilst also showing the Minster in all its glory."
"Also the event brings in many residents and visitors to enjoy the festival day and see this magnificent building for themselves. It is an important event because it helps to raise funds for the future of the Minster."
What Can You Expect To Find Happening At Beverley Minster At Fest Food & Drink Festival
Stalls at the event will be selling local produce and Christmas gifts while Father Christmas be there too.
Children will be able to meet Santa for free and will also be able to take photos as with him free of charge.
Entertainment will be happening throughout the day too. This will be provided by local music groups all of which will add to the occasion.
The Beverley Christmas Festival of Food & Drink tales place on 24 November. Admission is free and doors will be open from 10AM to 4PM.