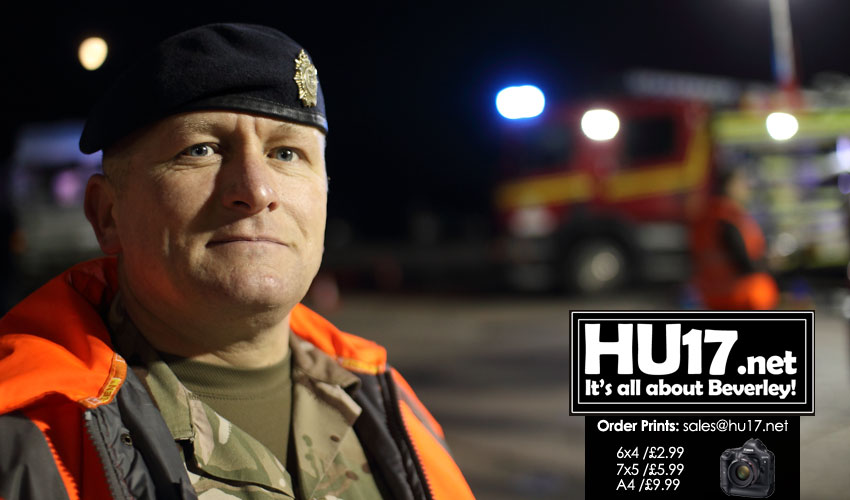 Armed Services Personnel based at DST in Leconfield have been given a lesson in winter road safety.
Safer Roads Humber visited the camp and showed over 200 members of the armed services the dangers faced on our roads.
On the night the troops were able to experience first hand how Humberside Fire and Rescue Service tackle these incidents.
The fire service gave a powerful demonstration of how they extract victims who are trapped in their vehicles.
Other things the troops were exposed to include a virtual reality simulation of Road Traffic Accident using the latest 360 technology.
Troops were shown a 7-minute virtual reality video of a car crash from a passengers point of view. In the simulation participants where able to see what is like being involved in a crash.
WO2 Ross, the Transport Control Warrant Officer at DST organised the event for the troops. He said that it helps to educate the young drivers who pass through the camp.
Why Armed Services Personnel Take Part In This Incentive
WO2 Ross said;
"We get a lot of young students that come here, we call them ITTs. These are soldiers who have completed their basic training, they go from zero to hero in a short time."
"While here they go from never during to getting the C and C + E licence in very short time. These are our target audience because they are young."
"For example, the lad we have in the car for the demonstration is just 18 years old. He had an accident in his own car as he was going too fast."
"So tonight he is part of the demonstration which will bring to life the possible consequences of his actions."
"I organise this outside of their military training. This is done so that when they get behind the wheel of their own car it gives them food for thought."
"Do I get my mobile phone out, do I have a drink or play do I play with the radio. It is to make them think. If doing this saves one life then I am happy with that."
Eye Opening Experience For Armed Services Personnel
One of the young recruits was a seventeen-year-old, he described what he saw as an eye-opening experience.
Safer Roads Humber say that one of the biggest causes of accidents on our roads is as a result of mobile phone use.
As a result, they are urging drivers to turn their phones off or put them in the glove box. They said;
"Mobile phones are a problem with motorists especially younger drivers. They will be checking social media while behind the wheel. Also, more people are using their phones to stream music."
"As a result of this they are distracted, our advice to all drivers is to put your phone away when you are behind the wheel."
WO2 Ross thanked Safer Roads Humber for delivering the event, he said;
"I would like to thank Safer Roads Humber and also the groups linked with them. We are very grateful for their time and resources in coming out here to do this."
"This really helps us out a lot. Again, if it helps saves one life in the next week or next year then our job is done."