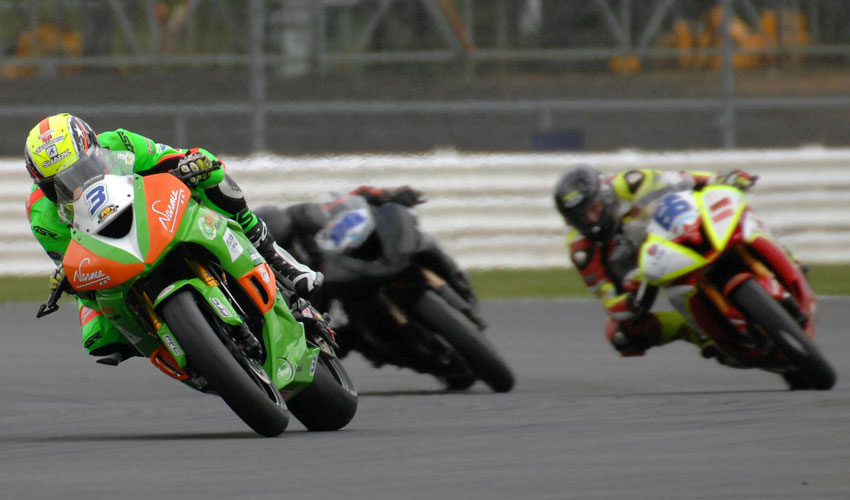 Silverstone hosted round nine of the British Superbike Championship. It took place on the National Circuit following concerns over the GP Circuit surface following the cancellation of the Moto GP.
Saturday saw Beverley racers, Jordan Rushby (Pirelli National Superstock 1000 Championship), James Westmoreland (Dickies British Supersport Championship), complete qualifying sessions in their respective championships.
Rushby placed the Alliance Steel Racing BMW thirty seventh and last on the grid (1min 05.4secs), with Westmoreland placing the Gearlink Kawasaki third (1min 02secs).
Later in the day Rushby competed in race one and two consisting of 12 laps each, which is designated the 100 mile race but split into two races straight after each other equating to two 12 lap races around the national circuit, while Westmoreland competed in the Supersport Sprint race over 10 laps.
Rushby started from the back of the grid and got a reasonable start but retired on lap three due to a what we understand to be have been caused by a technical issue.
Westmoreland lost a place as the sprint race got underway to James Rispoli, and then lap two saw him drop another spot to Jack Kennedy. Lap three saw Kyle Ryde make a pass to relegating 'Westy' down to sixth place.
On lap four Josh Owens made a pass to take sixth from 'Westy' pushing him back to seventh. Westmoreland kept on pushing remaining seventh until the final lap when he made a pass on Kyle Ryde to cross the line in sixth place.
Sunday saw the pairing compete in their final races of the weekend. 'Westy' was up first with the Supersport feature race held over twenty six laps.
He dropped to thirteenth place off the start, giving him lots to do during the race. by lap three he had climbed back to eleventh place where he remained until lap nine, laps ten to twenty four he was battling with those around him moving up and down the order continuosly.
By lap twenty four he had risen back to seventh place, but a mistake cost him dearly as he fell back through the field to eventually take the chequered flag in thirteenth place.
Both Westmoreland and Rushby will be in action again on 14-16 September at Oulton Park.
Photos By David Holland