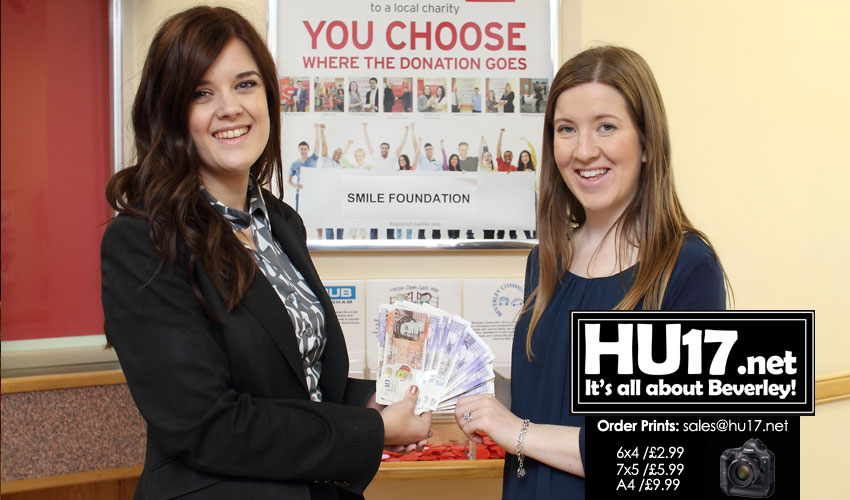 Beverley Building Society have made their latest donation to the winners of their Charity of the Month competition which was won by HEY Smile Foundation.
Voted for by members of the Society, HEY Smile Foundation won the prize of £250, money they say will be used to support the work they do in the regions communities.
Helen Binnie-Wise, Head of Events and Marketing at the HEY Smile Foundation visited the Beverley Building Society branch on Saturday Market to collect the donation on behalf of the charity.
Speaking about the work that HEY Smile Foundation carry out locally she said;
"Based in Hull we work with different charities and community groups to help them apply for funding, help them become more sustainable help them, with volunteers.
"We also run two NHS charities that fund equipment which above and beyond the statuary provision by providing kit for hospitals to make the patient experience more comfortable."
There are plenty of examples of the work the charity has done to support the community in Beverley.
Smile have helped to fund a number of defibrillators in Beverley. These can be found at Toll Gavel Church, Sammon Road, Cherry Tree Lane and in Molescroft.
They also offer Education Through Inspiration, part of that incentive saw children have a food experience at Ogino Japanese restaurant in Beverley.
Thanking members for picking HEY Smile Foundation as the Charity of the Month, Helen said;
"We are really happy that members of Beverley Building Society picked us to give the donation to."
"We are really grateful for the donation. We were quite surprised to hear about it. We are really happy people know what we are doing and do a lot of events to promote our work."
Anyone wishing to put forward an organisation for the competition should call into the Beverley Building Society branch on Saturday Market in Beverley to find out more.