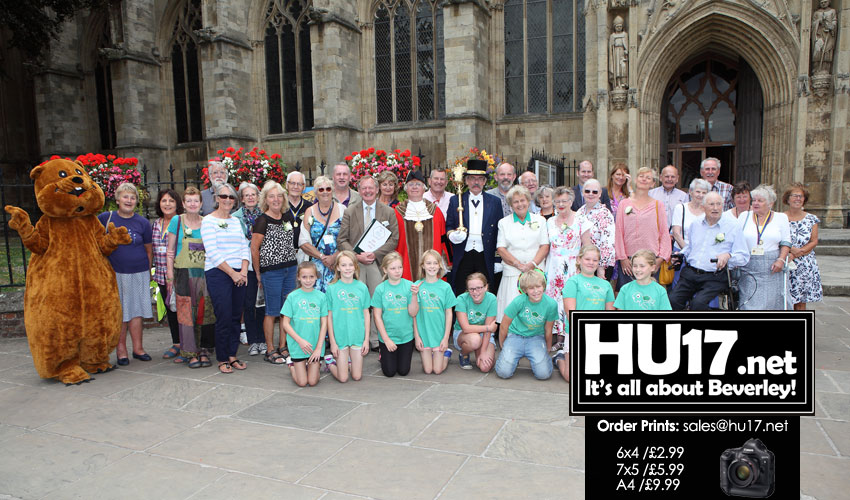 Beverley has to wait and see the outcome of a visit to the town by the Britain in Bloom judges to see how they fared in the national competition.
Months of effort and planning by Beverley Town Council, Beverley in Bloom, countless volunteers and with support from East Riding of Yorkshire saw Beverley transformed for Britain in Bloom.
Two judges from the Royal Horticultural Society were in Beverley where they were given a tour that started at Beverley Racecourse and ended at Beverley Minster.
Rae Beckwith, Royal Horticultural Society Britain in Bloom Judge was visiting Beverley for the first time. Commenting on his visit he said;
"There is a huge amount of passion in Beverley. We have seen a lot of people wanting to try and make a difference in their special way."
"Why we are seeing more community involvement is because the RHS have moved away from window boxes hanging baskets and what used to be just floral."
"Now Britain in Bloom is about environment, the people and the communities linked in with horticulture."
When asked if anything in particular stood out while on the tour, he said;
"The community and the level of involvement is the stand out thing today."
Rae declined to reveal how he felt Beverley performed saying the town will have to wait till the results are announced in October at a special event being held in Belfast, Northern Ireland.
Beverley is just one of three locations in the whole of Yorkshire to take part in the 2018 Britain in Bloom completion and will graded either Bronze, Silver or Gold for their efforts.
Town Clerk, Helen Watson said;
"It was a busy tour and we showed them all different parts of Beverley. We showed them the Heritage and showed them we have a fantastic community, that really shone out for me today."
"On the budget we have got, just £3,000, I think we have done a pretty good job this year. We are in the dark like everyone else till October, so it's best to forget about it now till October."