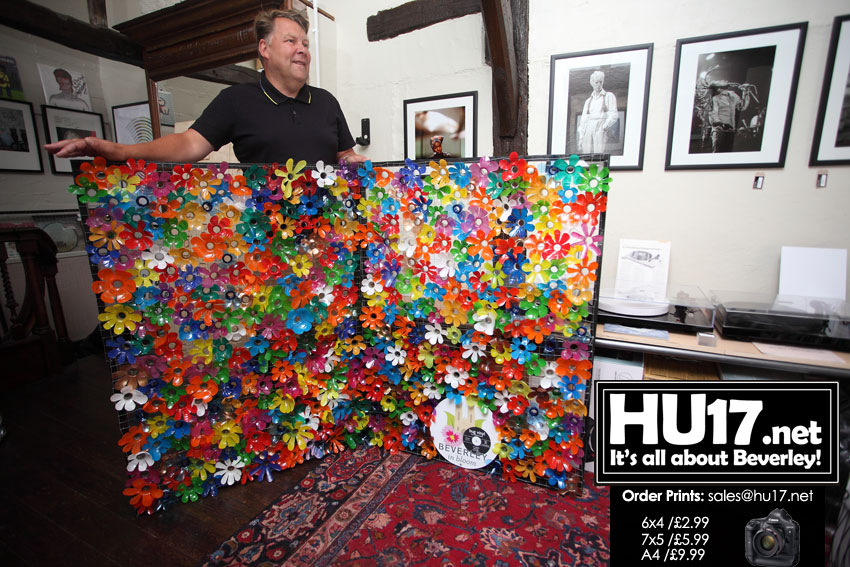 Local business owner Neil Harris is just one of many businesses in the town who are getting involved with Beverley in Bloom this month.
Neil who owns Bug Vinyl on Ladygate has created a large sculpture using recycled plastic bottles which he has displayed on the side of his record shop.
In the planning for couple of months Neil collected many recycled plastic bottles from his customers and neighbouring businesses Maa and Cafe V, which were then cut and paint by hand to create a floral display.
Speaking to HU17.net Neil said;
"I wanted to do something a little bit different while supporting the town and supporting Beverley in Bloom so came up with the idea of this sculpture.The idea of doing this came from talking with Helen Watson at the Town Council."
"The past few weeks have been spent cutting up recycled bottles into flower shapes and painting them in different bold colours."
Neil says;
"Beverley in Bloom is a great incentive offering many benefits to Beverley and is something we can all embrace. Our lovely town centre is looking really good and with the judges heading to Beverley in August for the Britain in Bloom competition I feel it is important we all pull together and see if the town can win on the national stage."
"The response I have had has been very positive. Since putting it up people have been commenting how it adds a nice splash of colour to our building and the street which we trade on."
Neil's project is one of many that are currently happening in Beverley as the town looks to brighten its self up and make it look the part ahead of judgement day on Wednesday 8th August.
Beverley Town Council are urging businesses, community groups and members of the public to do their best in the coming weeks to avoid leaving litter and to clean up to give the town the best chance of winning their group at Britain in Bloom.