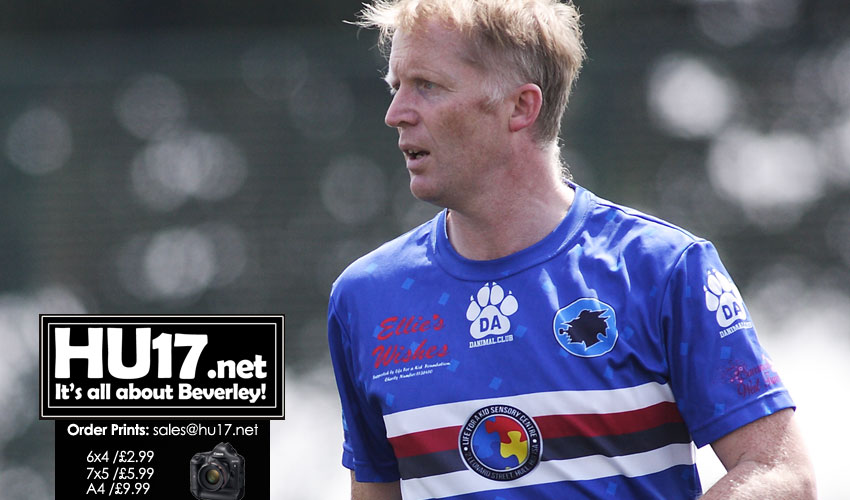 Beverley Team, AC Maldini played a tight close game against a Hull City Ex Tigers squad including Wembley goal scoring hero Dean Windass, Nathan Doyle, Pete Skipper, Tim Hotte and Adam Lowthorpe wearing the black and Amber shirts
The game was in aid of Life For a Kid, a Hull based charity who do so much good work for disabled children and their families in this area.
Paul Furness who arranged the fund rasiing fixture, drawing on players from the sessions he holds in Beverley said;
"We are still working through the online donations and paper sponsorship forms to calculate how much was raised but the day."
"What we do know is that early indications are that both the footballing and fundraising were an outstanding success. "
AC Maldini were unable to get one over the Ex Tigers with Nathan Doyle scoring the only goal of the game in sweltering conditions.
Furness expressed his appreciation at to those who made this fixture possible and the success it was, he said;
"I would like to give a special thanks to Katie Bailey at Life For A Kid, Mike Trotter at Longcroft School, William Dodds for refereeing, The Molescroft Inn for their hospitality after the game and Dean Windass and Nathan Doyle for bringing the Ex Tigers to Longcroft."
Dean Hoggard , Head of Operations at Life For a Kid said;
"Everyone at the charity would like to thank Paul Furness for his hard work in putting the match together, the Ex Tigers for supporting the cause and all the players from AC Maldini in their fund raising efforts."
"Money raised will support the Life For a Kid Sensory Centre for Autistic children from the Hull and East Riding area. The room offers a chance for people with Special Educational Needs to build confidence and grow as a person."
"As charity it is events like the one Paul set up that allow us to provide these essential services free of charge in the community."