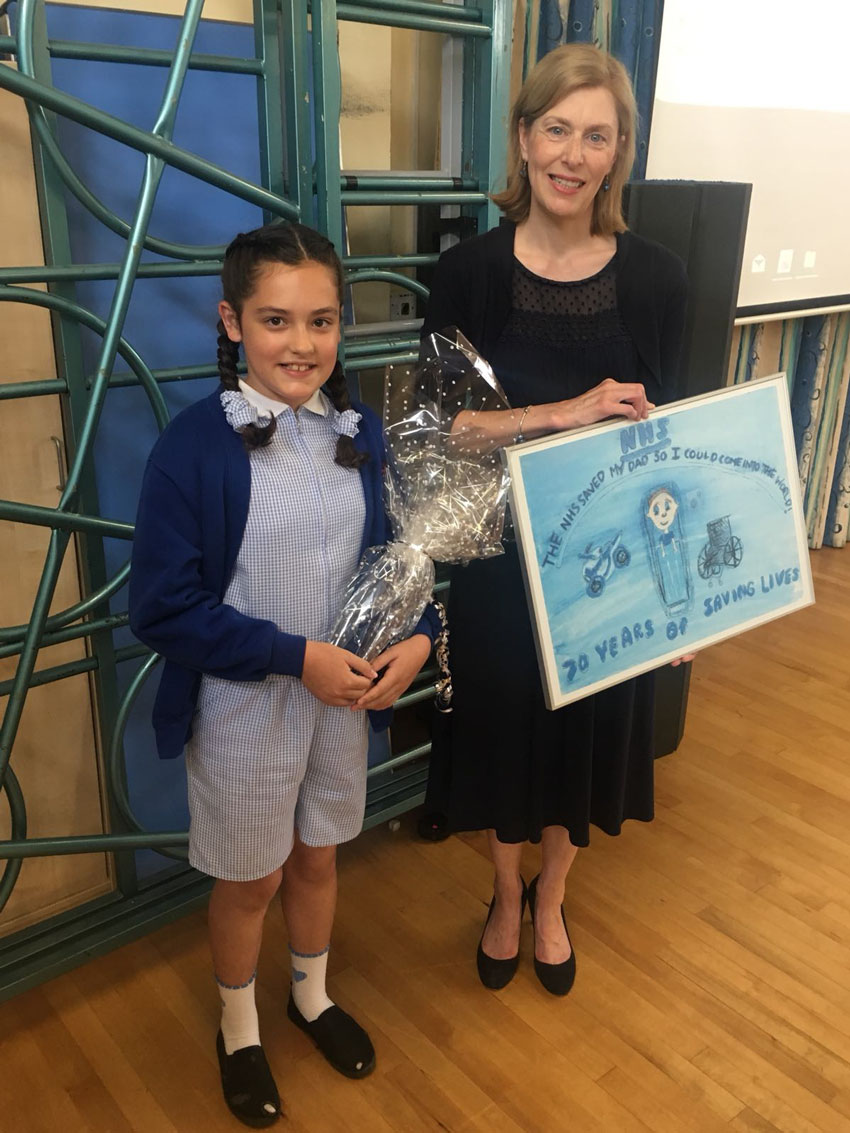 Primary and secondary school students across the East Riding took the chance to thank NHS staff and express exactly what the service means to them as the nation came together to celebrate 70 years since its creation.
Students were given the opportunity to exercise their imagination to come up with their own creative representation of what the NHS means to them, with the award of a Fitbit for the overall winning artist.
Schools submitted hundreds of drawings and paintings, all of which have been put together to form a magnificent mosaic that will be presented to the winning school.
Jessica Filbee, age 10, of Springhead Primary School was selected as the competition's overall winner.
Her stand-out piece is a colourful and moving tribute dedicated to the hardworking NHS staff that saved her father's life so that she could come into the world.
Paul Filbee from Anlaby was involved in a serious accident 15 years ago when he came off his motorbike on the A1079 slip road and was subsequently hit by a car. Paul suffered a spinal fracture and was in Hull Royal Infirmary for one month and then Pinderfields Hospital in Wakefield for four months where he underwent intensive rehabilitation.
His weight dropped to just eight stone, he had to learn how to move around, and do the everyday things people take for granted. He was also told by doctors that he would never be able to walk again.
He and his wife were dealt a further blow when they learnt he may not be able to have children.
Although he now has to use a wheelchair to get around, Paul and his wife Diana were elated to find they had defied the odds and conceived Jessica naturally, five years after his accident.
Paul Filbee said:
"The NHS is a great organisation; they helped to save me and as a result allowed myself and Diana to have Jessica. I'm really proud of her and I'm very grateful to the NHS who to this day continues to support me."
Jane Hawkard, East Riding of Yorkshire CCG chair said:
"We were keen to get local schoolchildren involved in the NHS70 celebrations. Setting them a creative challenge was a great way to allow students to engage with the health service, express their feelings about it and tell their own NHS story.
I'd like to thank all the students who took part, it was wonderful to see so many entries and it gave us all a great insight into what the NHS means to the children of the East Riding.
Choosing a winner was a difficult task, but I am delighted for Jessica. I hope she enjoys her prize and continues to share her story, which shows the NHS at its best."