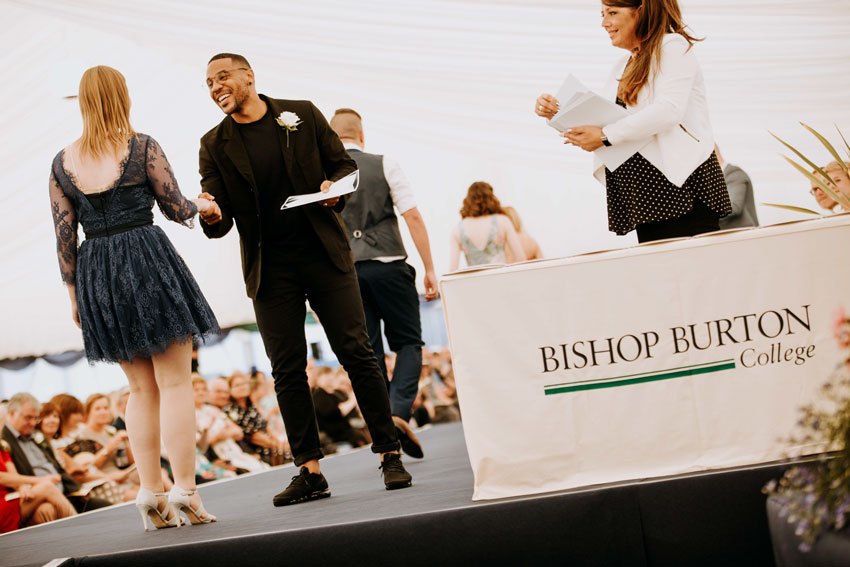 Multi-award winning documentary maker Reggie Yates told students at an East Yorkshire college they can achieve their dreams by staying true to themselves, as he helped them celebrate completing their studies.
Critically acclaimed Reggie, whose documentaries include the Extreme series shown on Netflix, was the special guest at Bishop Burton College's annual presentation day event.
The event, held at the college's campus near Beverley, celebrated the achievements of further education students who have successfully completed their courses and was attended by more than 2,000 people.
Former BBC Radio 1 and Top of the Pops presenter Reggie, whose earlier career roles include in Desmond's, the CBeebies show Rastamouse, and Doctor Who, presented certificates to all the students, as well as trophies to award winners.
He also talked to all the students and guests about his highly successful and varied career, as well as the importance of staying true to their beliefs.
Reggie said: "At so many points in my life I doubted who I could become because of where I was from. That doesn't exist in me anymore.
"Regardless of the path you take, the important thing is authenticity. I'm the same person I am on stage today in front of all of you as I am anywhere else. Consistency as a person is the most important thing.
"Whatever you choose to do, if who you are is at the centre of what you do, you will be successful."
Acting Chief Executive and Principal, Bill Meredith, delivering his annual report, said: "It has once again been an exciting year of success for the college.
"In January, the college achieved the highly coveted Investors in People 'Gold' award – which indicates Bishop Burton is one of the best places to work in the country.
"I'm also pleased to announce that the college has also been awarded the 'Quality in Careers Standard' for the advice and guidance given to our students.
"The success of our students is what we all work towards and I am delighted to say that there has never been a time in the college's history when more have gone into work or a higher level of study.
"The latest figures show 97% of students have done just that within six months of completing their course. That is testament to the hard work of all our students and staff, as well as the support parents have given their sons and daughters during their time with us."
He added: "Congratulations to all of you students. Enjoy your day. I wish you well for your future careers or continuing education.
"Be proud of your achievements and use them as a platform for your future success."
Equine student Summer Turner proposed a formal vote of thanks on behalf of all the college students in attendance.
She said: "As I'm sure you'll agree, today has been a fantastic way to celebrate the achievements of more than 1,000 students, all of whom leave with a new qualification, exciting job prospects and, most importantly, friendships and memories that will stay with them for a long time to come.
"We must take the time to thank the staff, our families and our friends, who have offered support. But let's not view this as the ending of our journeys, but rather the beginning of an exciting new adventure.
"We leave today with some valuable skills that will no doubt open up doors for many years to come. We may no longer be in education, but that passion we leave with today will continue on into our careers."
Bishop Burton College runs both further education courses and degree programmes. It specialises in agriculture, animal management, equine and sport but also runs courses in many other subjects including floristry, art, design and fashion, business and public services.