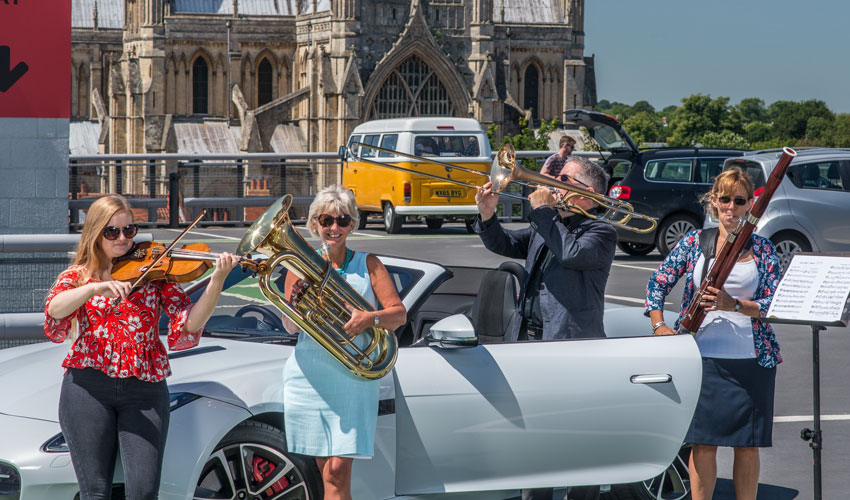 East Riding of Yorkshire Council, in partnership with Orchestras Live, are celebrating the news that their RPS award winning programme, Classically Yours, has received a grant of £95,434 from Arts Council England to allow it to continue until March 2020.
This means that the pioneering work to bring classical music to venues and communities which would not normally be able to enjoy and benefit from it can continue in various locations across the East Riding.
Community arts officer June Mitchell said;
"I am absolutely delighted that we are now able to continue Classically Yours for another year, and build on the great achievements of the last 12 months, when we took classical music into care homes, schools and concert venues."
The next phase of Classically Yours builds on the work with orchestras, promoters and local music partners in the coastal areas of Bridlington and Withernsea, targeting those least engaged in cultural activities and developing new audiences for orchestral music activities. The programme will offer a wide range of orchestral experiences for people who have never engaged with music before, collaborating with four orchestras.
As well as retaining Sinfonia Viva, Manchester Camerata & Britten Sinfonia as the primary partners, the programme will expand its partner orchestras to include Multi-Storey Orchestra, whose innovative and place-based presentation style will attract new audiences.
The programme will start with the Multi Storey Orchestra coming to Flemingate Multi Storey Car Park in Beverley on Saturday, 6 September.
The evening will start off with musicians spread across the car park, with the audience free to explore and get involved; finding out about the music and meeting the orchestra, before everyone comes together for a full performance of Schumann's Second Symphony. For more information and tickets please visit Bridlingtonspa.com
Councillor Richard Burton, portfolio holder for leisure, tourism and culture, said;
"Congratulations to everybody involved in the council and at Orchestras Live for their hard work in bidding for this new grant, and my sincere thanks to Arts Council England for awarding us this money. This is wonderful news, and I look forward to another hugely successful year."
Full details of the concerts and community programmes will be announced in due course.