Beverley racer's James 'Westy' Westmoreland competed in round four of the Dickies British Supersport Championship onboard the Gearlink Kawasaki while Jordan Rushby competed in the Pirelli National Superstock 1000 Championship around the Snetterton 300 circuit in Norfolk.
Westy placed the Kawasaki third on the grid for the first of the weekend's two races in a time of 1min 51.9secs, while Rushby placed the Alliance Steel Racing BMW thirty sixth on the grid with a time of 1min 54.9secs out of fourty two, with only thirty nine being able to race due to grid constraints.
As the first race got underway (10 Lap Sprint) Westmoreland got a flying start and took the lead, but by the end of lap one had slipped to third place. Lap two saw the safety car come out for two laps to clear an incident.
With racing resumed Westy pushed hard to move up the order but was passed by Jack Kennedy on lap five. Westy remained fourth until the race was red flagged on lap nine after James Rispoli's engine blew who was running in second leaving oil over the track, resulting in five other riders being involved in what can only be descibed as carnage as the five bikes went into the gravel trap and the air.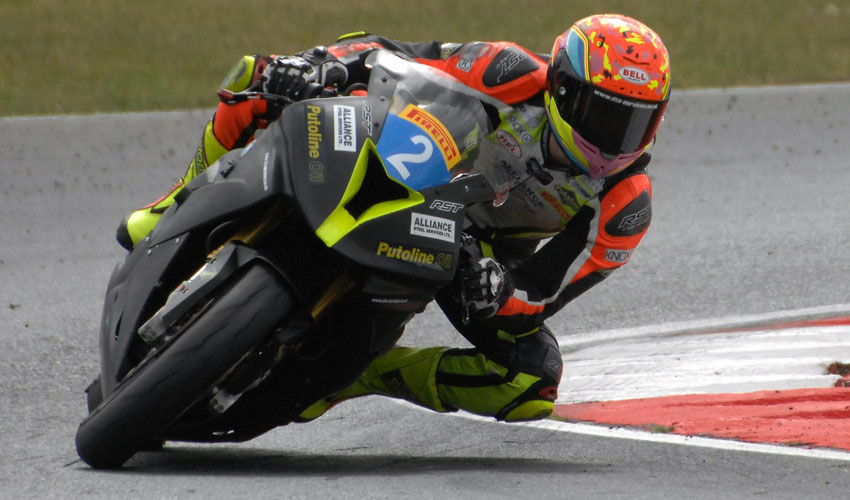 As the lights went green Rushby made a good start and by the end of lap one he was in twenty third place passing nine other riders and four riders who never even made it to the end of the first lap, which also benefitted him.
Laps two to seven he was battling with those around him gaining places then dropping back down the order. By lap eight Rushby was running twenty second chasing those ahead down.
The push lasted until lap twelve to no avail and by then had got the best out of his tyres and slipped back to twenty fifth where he remained until the chequered flag.
Later in the day Westmoreland made a good start from eighth place but unfortunately did not even make the end of the first lap and subsequently retired after being involved in an incident at Wilson Corner which saw him crash out.
Both riders will be in action again on the 6th-8th July at Knockhill in Scotland.

Photos by David Holland