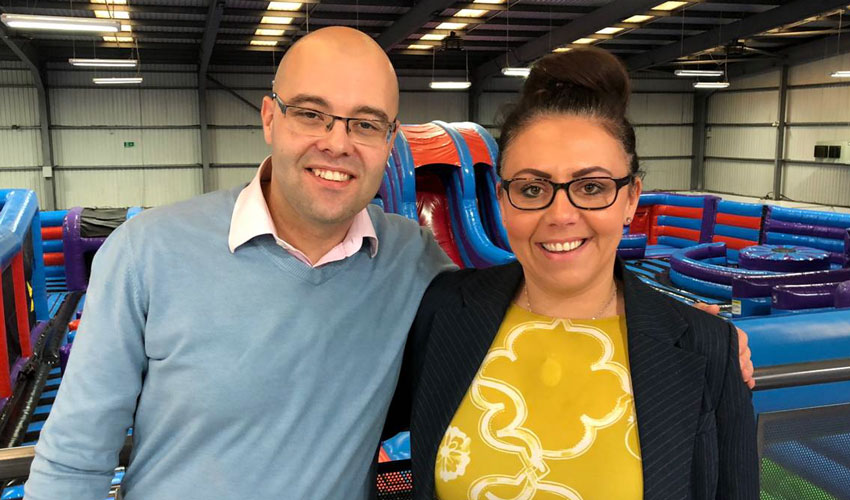 The UK's first ever dual-level 'double-decker' inflatable theme park is set to put the bounce into Beverley.
And the family-friendly new venue will also boast the UK's biggest ball pool – home to a staggering 200,000 plastic spheres!
The 'Inflata Nation' venue is set to open at the town's Flemingate shopping centre, and represents the first attraction of its type in the region.
The brand is the brainchild of husband and wife duo Michelle and Matt Ball, who've already opened two other Inflata Nation centres – in Manchester and Cheshire – with a third to open in Birmingham later this year.
But Michelle says Beverley's arena will be entirely different from anything that's gone before.
She explains: "The previous Inflata Nation centres have all been on one level, spread out across a large space.
"But we wanted to up the ante for Flemingate, which is why we've created a dual layer, double decker system, with a mezzanine floor in between.
"It'll give the impression that you're 'floating' above our trademark giant inflatables.
"And it also presents lots of fun options when it comes to ascending and descending! It's been a real blast to design.
"Bouncers will be able to access the second level by way of rope ladders, climbing walls, or via normal stairs.
"We'll also have the first ever 'Inflata Mountain' – a big structure to clamber up as if you're an aspiring Bear Grylls.
"And we'll have a series of drop-slides which all exit into a massive ball pit – which we believe is going to be the biggest in Britain."
Matt Ball says the double-decker layout also means their climbing wall can reach a vertigo-inducing 25ft tall.
Meanwhile the park will also boast obstacle courses, a 'Gladiator Duel' area for doing battle with friends on inflatable plinths, as well as an extensive play area for the under 4s.
Inflata Nation will also be unique in that it'll be the first Flemingate leisure attraction where families can work up a sweat together.
Developed and owned by leading property development company Wykeland Group, Flemingate is Beverley's largest-ever regeneration scheme and includes big-name retail and leisure brands and local independents, as well as being home to the East Riding College campus, an 80-bed Premier Inn hotel and a six-screen Parkway Cinema.
Graham Tait, Flemingate Centre Manager, said: "We're really excited that Inflata Nation is coming to Flemingate. This investment will not only bring the region's first inflatable theme park to the centre, but also introduce a UK first variation on a hugely successful formula.
"Inflata Nation's existing venues are a massive hit with children and adults alike and we're sure the same will be the case at Flemingate. This new attraction will underline Flemingate's reputation as East Yorkshire's fastest-growing retail and leisure destination and draw people to Beverley from far and wide."
Beverley's Inflata Nation is due to open in time for the school summer holidays, which begin 26 July.
And if the centres in Manchester and Cheshire are anything to go by, locals can expect an influx of celebrities, too.
When Inflata Nation Cheshire opened earlier this month (May 4) Coronation Street's Kym Marsh and I'm a Celebrity…Get Me Out of Here! star Adam Thomas attended the VIP launch party, alongside Hollyoaks actors Ashley Taylor Dawson and Sophie Porley.
The following day, Manchester United footballers Marcos Rojo and Ander Herrera were also seen at Inflata Cheshire, enjoying some time away from the football pitch.
Michelle and Matt first shot to fame in 2014 when they launched a series of Jump Nation trampoline parks.
But speaking about a change of direction implemented in October last year, Matt revealed: "While trampoline parks are becoming more and more common, we think Inflata Nation is a pretty unique concept – there's certainly nothing else quite like it in the world so far."
The prices for Inflata Nation Manchester and Cheshire are currently £5.95 for Under 4s and £9.95 for anyone else.
They'll also be looking to launch disability friendly sessions, times where 'Inflata Tots' can run wild without fear of bumping into any adults, as well as their famous 'Inflata Fitness Classes', which were recently featured on several national TV news outlets.
As with other Inflata Nation centres, Inflata Nation Beverley will also feature a cafe selling fine coffee and snacks.
For more information, head to: www.inflatanation.com