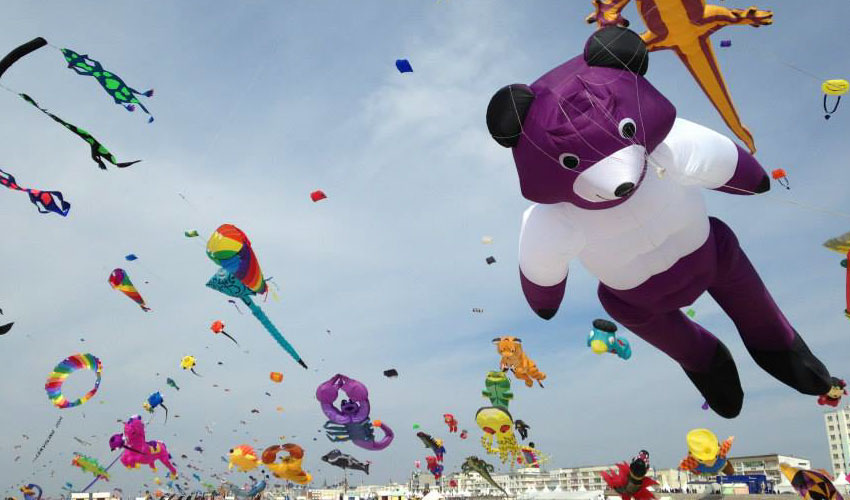 The sky over Sewerby Fields, in Bridlington, is set to be awash with colourful kites as part of a two-day festival, hosted East Riding of Yorkshire Council's Active Coast programme and the Northern Kite Group and sponsored by St Stephen's Shopping Centre (Hull).
The event will take place on Saturday, 19 and Sunday, 20 May and will see displays from a number of internationally-renowned experts as well as traditional fairground rides and a food village, with plenty of local produce on offer to create the perfect picnic.
Displays will include some of the world's largest inflatable kites flown by professional flyers, teams of two and four line kite flyers performing sequences to music, a display of unique oriental kites, Indian fighter kites and much more. There will also be a chance for members of the public, particularly children, to have a go at flying some of the kites (loaned and supervised in the display arena).
The food village will return for 2018 and will see over a dozen local food and drink stalls providing street food to enjoy while watching the kites overhead.
Children will also be encouraged to bring their favourite soft toy for a parachute jump. The teddy will be given a parachute and hoisted up a rig and float gently down from a great height. The owner of each bear will be presented with a certificate to reward them for their bravery.
The Northern Kite Group, formed in 1978, has members throughout the country and attends many events in both the UK and abroad.
Dave Bleasdale, secretary of the Northern Kite Group, said: "There will be some of the largest kites the public have ever seen along with fantastic displays of kite flying to music."
St Stephen's Shopping Centre (Hull) is sponsoring the Bridlington Kite Festival 2018 and will be hosting kite workshops in the build up to the event on Saturday, 5 and Sunday, 6 May.
Sophie Oliver, marketing executive, said: "Contributing to events for the local community, promoting education, creativity and family time is crucial for St Stephen's, and reflects our core brand values of bringing people together.
"We are also keen to connect Hull and St Stephen's with the wider community and reach out to our neighbouring beautiful East Yorkshire coastline."
Councillor Richard Burton, cabinet portfolio holder for leisure, tourism and culture at the council, said: "This is the third year of the kite festival, which continues to grow in popularity.
"Hosting this fantastic event is a real coup for both Bridlington and the wider East Riding, as it provides both residents and visitors with the opportunity to see some of the best kite displays in the world."
EY Events and Northern Kite Group would also like to give special thanks to Sunflower Lodge Bridlington for supporting the kite festival.
The kite festival is free to come along and watch and will be open 10am-5pm on both days.
For more information visit www.activecoast.org