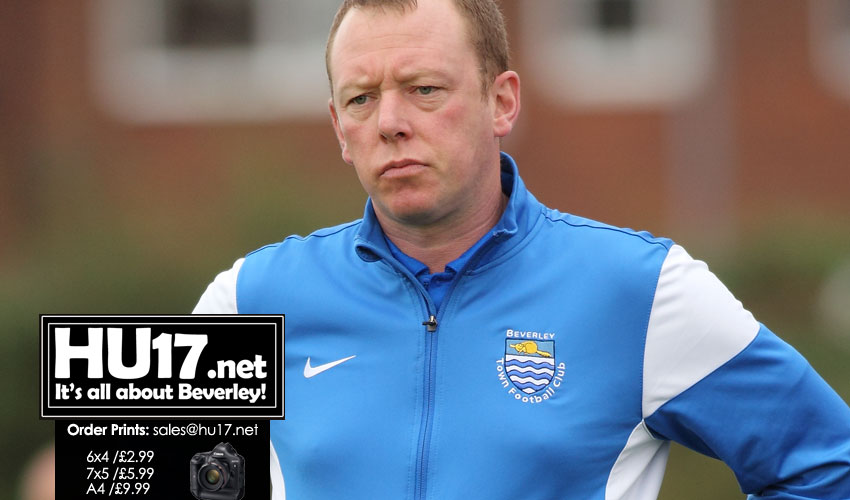 Beverley Town Football Club travelled to bottom of the league North Ferriby Athletic in search of another win to keep them in contention for runners up spot in the Humber Premier League.
However it was going to be a difficult day, as both sides ending up sharing the spoils on a day that saw the sun beat down on a bone dry, bobbly pitch, quality football was at premium.
Speaking after the game, Town boss Rich Jagger said;
"It wasn't easy for either team to play football on a dry, very bobbly surface today. We didn't play great today, but thought we could have nicked another goal and come away with a win."
"Credit to Ferriby though, they kept at it, defended well and made life difficult for us. On reflection it might not be a bad point but we would have preferred three."
"The way results have gone we are now guaranteed fourth place, which is better than the target we set ourselves at the start of the season."
"With one game left against 'Scullys' we look to get something from that and see if we can finish any higher in the league."
Town started well, creating a couple of half chances, without causing too many problems. Most of the game was played in the Ferriby half, but when they got the chance a long ball forward was the main threat to Towns defence.
Against the run of play Ferriby took the lead on 30 minutes, when a long range shot was deflected off the back of Nathan White and crept agonisingly past the wrong footed Spencer in goal for Town.
Craig Muirhead had a good opportunity to level but his attempted lob fell short and was easily dealt with by the keeper.
Town started the second half brightly and continued to probe without any major goal threat . Michael O'Connell was enjoying time on the ball and was linking up well with towns wide men. Towns equaliser came from defender Kurtis Bedford on 70 minutes, after he headed home from Michael O'Connell's pin point corner.
Town pushed hard to get the winner, and it was O'Connell who went closest when his 25 yard shot rattled the cross bar, rebounded back into the penalty box, and the subsequent shot was blocked and cleared by the Ferriby defence.
Final Score : North Ferriby Athletic 1 Beverley Town Football Club 1