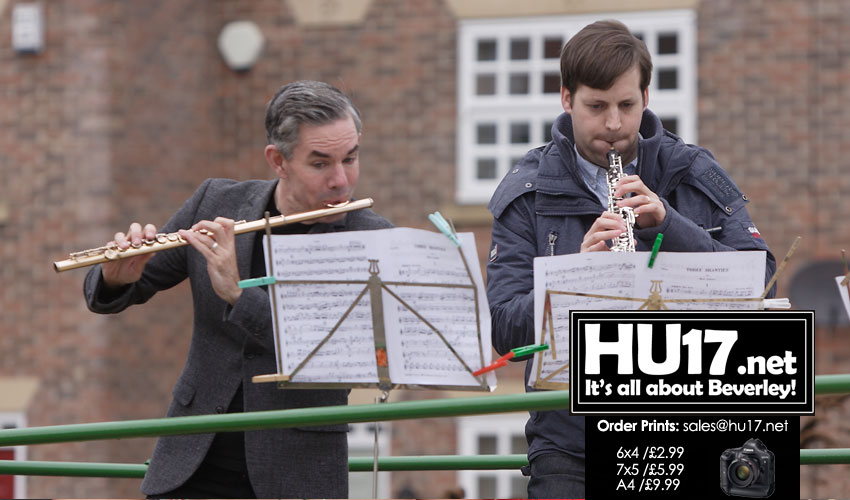 New Paths Music hosted their annual music festival in Beverley this weekend which included a complete 'Music Takeover of Beverley.'
Alongside the many concerts taking place in the town, fridge events were staged throughout the community including Beckside on the Syntan Barge.
People gathered on the banks of the Beck as musicians jumped aboard the Beverley Barge Preservation Society's amazing floating museum, Syntan, where they performed some sea shanties.
The music really was of a very high standard, people who were just going about their daily business stopped with some coming out of their houses to enjoy the concert.
At the end of the performance, the musicians were joined by the towns mascot, Bertie the Beaver who jumped aboard to lead a standing ovation.
Libby Burgess, Artistic Director at New Paths Music said;
"We were hugely pleased with how the festival went – our audiences exceeded our wildest expectations, in size, and also in enthusiasm."
"We've been so proud of our artists, who have played and sung amazingly, and have all fallen in love with the town of Beverley. It's been so wonderful to be back in our familiar venues, and also to explore so many new places for music-making."
"Particularly we were thrilled with the turn out for the Musical Takeover on Saturday: it was amazing to see so many people enjoying music throughout Beverley. Thank you to the town for embracing the festival and making us so welcome. We look forward to being back."
Held across the weekend, New Paths Music hosted events at all the key venues in the town including Beverley Minster, St Mary's Church and East Riding Theatre.
The event which showcases chamber music, organ playing, and choral singing also held a range of activities for children while also exploring how classical music influences Folk music.
In all, across the four days in Beverley New Paths Music hosted 37 different events ensuring everyone was able to access something from the event.