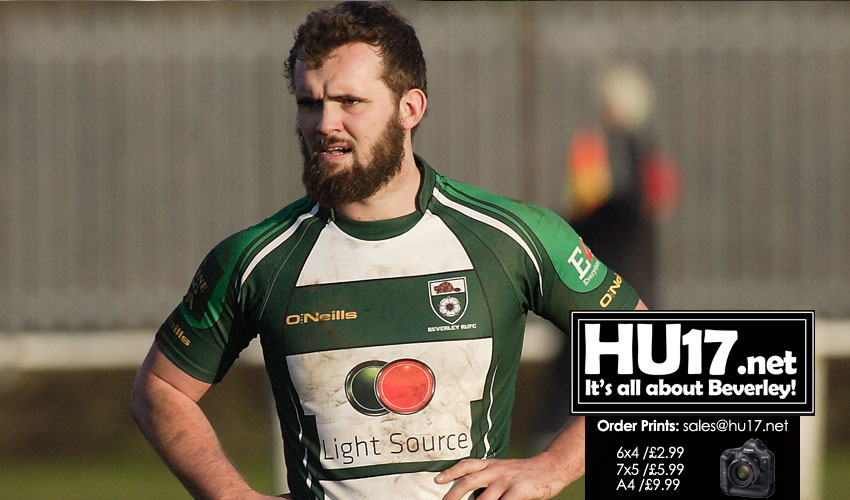 Beverley RUFC kicked off in this top of the table clash at Beaver Park with both sides looking to pick up the points to consolidate their positions in second and third place respectively.
After 5 minutes a Scarborough forward was caught offside and Phil Duboulay kicked the resulting penalty (3-0).
Scarborough mounted an attack down the right wing and a kick through allowed the Scarborough winger to win the race to the bouncing ball. He appeared to touch it down and the referee awarded the try.
However a TMO would almost certainly have advised that the touchdown was not satisfactorily made. Nonetheless the referee appeared to be unsighted in the scramble and it made the score 3-5.
Beverley hit back with a well worked try from scum half Will Harrison to make it 8-5 but once again Scarborough fought back to re-take the lead with an excellent try from right winger Harry Domett which was converted to make the score 8-12.
Play continued to be even and end to end with Beverley's forwards controlling the set piece but their backs could not make any headway against a resolute Scarborough defence.
Almost immediately in the second half Will Turnbull was yellow carded for a high tackle and, from the resulting tap penalty the Scarborough scrum half scuttled over for a try under the posts which was converted (8-19). Beverley were clearly missing full back Luke Hazell who was unavailable for this match and Scarborough realised this and were exploiting the space at the back to good effect.
Another try from a kick into that gap, again converted, made the score 8-26 and the Beavers looked to have a mountain to climb. This looked even more difficult when, firstly they lost the only winger they had on the field with a badly dislocated, or perhaps broken finger and had to replace him with a back row forward and then, to compound their problems, influential scrum half Will Harrison left the field with a nasty looking injury. Further disaster loomed when Will Turnbull who had only been back from the sin bin for ten minutes, received a second yellow and then a red card.
Inevitably Scarborough promptly scored a further try (8-31). Beverley stuck to the seemingly impossible task and, with 5 minutes remaining back row come wing Lewis Starbuck crossed for a try which Phil Duboulay converted to reduce the arrears to 15-31 and on full time Dale Hodgson rounded of a man of the match display for Beverley with a try out wide (20-32).
Scarborough deserved their win although Beverley played their part in an entertaining game. Their forwards won the battle up front but their reshuffled back line had to play second fiddle to Scarborough. The game was played in a good spirit but spoiled to some extent by some of the unsporting baying and heckling coming from some of the Scarborough supporters on the balcony.
Final Score : Beverley RUFC 20 pts v Scarborough 31