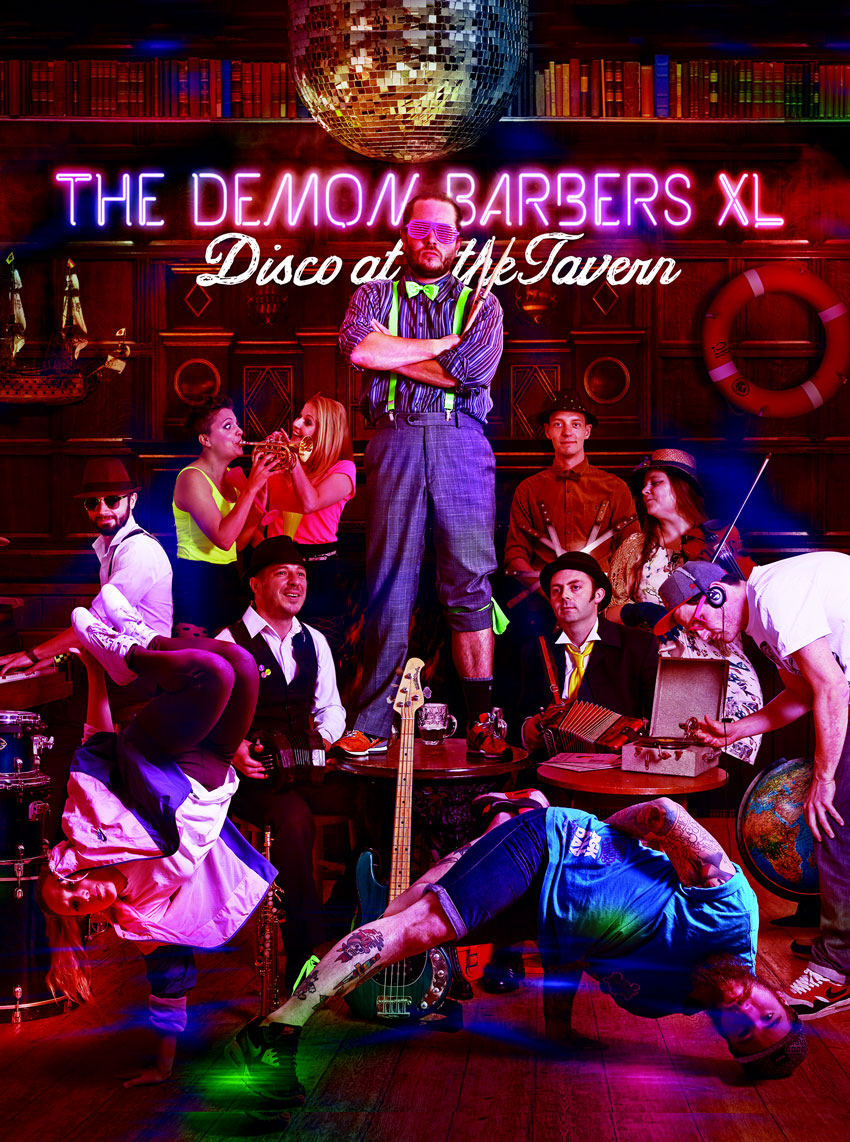 A group that has thrilled the crowds at Glastonbury and taken the Edinburgh Fringe by storm has signed up to headline Beverley Folk Festival.
As part of the event's 35th anniversary, The Demon Barbers XL will be taking to festival's main stage on Saturday 16th June 2018.
Praised by folk legend and the Beverley Festival's patron Mike Harding as one of the best live bands he's ever seen, and R2 Magazine as "mind-blowing", the Yorkshire-based Barbers bring high energy and anarchy to their performances.
Regularly being awarded 5-star reviews and playing to packed venues across the country, festival organisers are sure they will be a hit with audiences old and new.
Such acclaim was officially recognised when the band was crowned Best Live Act at the BBC Radio 2 Folk Awards.
"It's as if they've found the key to unlock the idea of 21st Century folk-rock revealing that these days rock isn't part of the equation at all. And it's wonderful" f'Roots
Kelly Foley, artistic programmer for the festival, said: "The Demon Barbers XL are modern folk music heroes, drawing on traditional music, whilst adding a great rhythm section, drums and bass. They blow away the old stereotype of some folk music being quaint or dour – they are anything but! The Demon Barbers are 21st century folk rock at its best and we can guarantee audiences an amazing night of music".
Such is a popularity of The Demon Barbers XL, festival-goers are being advised to make sure they purchase their tickets well in advance – you can see them as part of a full weekend ticket, Saturday ticket or single concert ticket. Selected tickets purchased before 21st March 2018 are still part of the festival's "Winter Warmer" offer, with prices due to rise after that date.
"This really is a mind blowing album with so much good stuff. It has to be an award-winner this time next year" R2 Magazine *****
"The inspiration comes from Damien Barber, front man of the award-winning folk band The Demon Barbers, who supply the floor-shaking live music that alone justifies the price of the ticket" The Independent review of The Lock In
"One of the best live bands I've ever seen. If you get a chance to see them – don't miss it – they are brilliant" Mike Harding, BBC Radio 2
'with driven punchy tunes and songs, drum 'n' bass grooves, the odd touch of ska and an ever present feel that this lot know how to party' result in 'one of the most exciting acts around… check them out….' fRoots
To purchase tickets and read all about the 2018 line-up, including YouTube links, visit www.beverleyfestival.com
Beverley Folk Festival is a family friendly event with plenty children's activities, open air entertainment, a craft marquee, a food court and real ale - something for everyone in a great festival atmosphere!
Beverley Folk Festival will be held 15/16/17th June 2018 at the Beverley Racecourse.