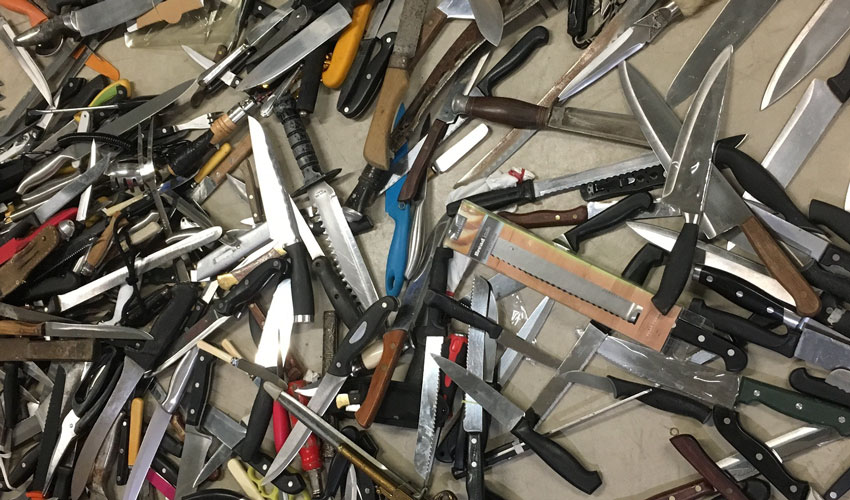 Humberside Police say they are delighted after hundreds of knives were taken off the streets that included a Samurai sword.
Figures in the UK show that knife crime increased and is at an all time high in the UK for six years with Yorkshire & Humberside having its fair share of incidents.
In a statement release, Humberside Police said;
"More than 200 knives are off our streets thanks to your response to national knife amnesty Operation Sceptre."
"As part of the national campaign we put sealed bins at seven of our stations across the force and, between Monday, February 12 and Sunday, February 18, you could hand in knives without having to answer any questions or leave any details."
"We are delighted to say that more than 200 blades – ranging from small knives to Samurai swords – were handed in."
Knife crime in the UK continues to grow with figures of reported knife crime at their highest level since 2011 with over 37,000 reported incidents in the UK for the year ending September 2017.
Yorkshire and Humberside are third on the national list for the number of Knife crimes reported. London top the list while Wales and South West England have the lowest number of reported crimes.
Of those crimes reported over half of the incidents reported a knife was used to cause an injury during an assault while robbery was next on the list.
Despite the overall growth in knife crime, you are still more likely to be hit by another object if attacked while murder cases where the victim has been killed with a knife are in decline.
Chief Inspector Paul Butler, who oversaw our local amnesty, said;
"It's great that so many people made the decision to bring their knives in, so that they can be disposed of safely."
"This campaign was about getting as many knives off our streets as possible, preventing them from being used to harm or threaten our communities."
"I would like to thank everyone who shared our appeals or brought in knives."