Sales of vinyl records in the UK enjoyed another top year with purchases in 2017 reaching their highest levels since the early 90s.
Vinyl now accounts for 3pc of all music sales with consumers in the UK buying a staggering 4.1 million vinyl records in 2017, with Ed Sheeran topping the sales charts.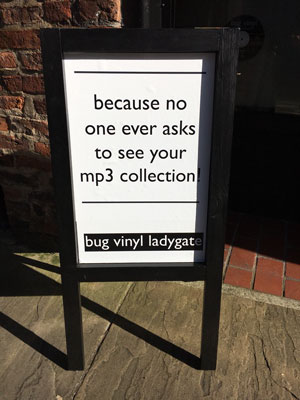 Here in Beverley, the success of vinyl record sales and the growing trend is seeing people of all ages rekindling their love affair with the 'album' which in turn is having a positive effect on our high street.
Neil Harris, who runs the record shop on Ladygate, Bug Vinyl, had people queuing to get last April when he took part in Record Store Day.
Tapping into a market that is worth £65m in consumer spend, Neil's business is flourishing as more folk turn their back on digital in favour of vinyl.
Bug Vinyl, an independent business is seeing customers travel from far and wide to browse through their records. So popular has this trend in buying vinyl become that the shop has expanded putting in record players upstairs so people can listen before they buy.
BPI Council says that is not just the old who are going back to vinyl but also the young as they crave to physically own something. They said;
"It's twofold in that older people are going back to vinyl but also the younger generation are discovering it in a way they weren't before."
"People think kids just stream music. But actually that is not the case. We are going to see increasingly over this coming year that young people still want something tangible and real, and that's where vinyl is taking over the role that the CD used to have."
It would seem that in UK that people who really like their music want to go back the traditional way of enjoying music, by putting the needle on the record.
Top 20 vinyl albums sold in the UK in 2017
Ed Sheeran – Divide

Liam Gallagher – As You Were

Fleetwood Mac – Rumours

Guardians Of The Galaxy – Awesome Mix 1 Original Soundtrack

Amy Winehouse – Back To Black

Rag'N'Bone Man – Human

Pink Floyd – The Dark Side Of The Moon

Beatles – Sgt. Pepper's Lonely Hearts Club Band

Oasis – What's The Story Morning Glory

David Bowie – Legacy

Radiohead – OK Computer

Bob Marley & The Wailers – Legend

Noel Gallagher's High Flying – Who Built The Moon

Stone Roses – The Stone Roses

Nirvana – Nevermind

Beatles – Abbey Road

Queen – Greatest Hits

Nirvana – Unplugged in New York

Guardians Of The Galaxy – Awesome Mix 2 Original Soundtrack

David Bowie – The Rise and Fall of Ziggy Stardust