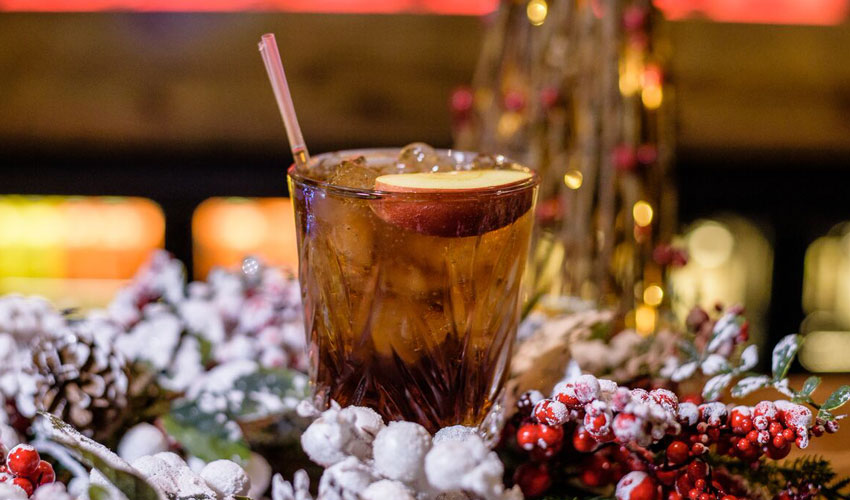 It's going to be a very merry Christmas at Beverley's FIREPIT thanks to a new menu of special festive cocktails including a red hot take on everyone's chocolate guilty pleasure … a flaming Ferrero Rocher!
Mixologists at the smokehouse & sports bar at the retail park Flemingate have created a seasonal selection perfect for Christmas or New Year nights out.
Jason Marling, general manager at the FIREPIT Beverley says the new cocktails are bound to be on lots of Christmas wish lists.
He said:
"We know what our customers like, so we've taken some of our most popular cocktails and given them a festive twist, and we've created some new ones too for them to try."
"We'd definitely recommend the hot cocktails as the best way to warm up once temperatures drop and with the Firecracker you get a little chocolate treat too."
There are festive twists on some FIREPIT favourites and a couple of hot ones to keep customers warmed up by the firepit through a winter big freeze.
One of the showstopping stars of the Christmas line-up is the Firecracker which promises a hot, hot, hot combination of vodka, amaretto and hazelnut liqueur, all garnished with a flaming Ferrero Rocher shell.
The Very Berry Christmas is a hot blend of the best Christmas flavours in a glass – homemade thyme-infused raspberry jam syrup with a subtle hint of sloe gin and cranberry juice.
Mojito lovers can enjoy a cool Christmassy version of the classic, with a White Christmas Mojito of fresh mint leaves, coconut rum and coconut milk, and the FIREPIT White Russian has been given a super-indulgent Winter Wonderland makeover teaming salted caramel coffee liqueur with vanilla vodka.
No Christmas would be complete without a glass of fizz or two, and a Festive Fizz – amaretto and orange juice topped with prosecco – is guaranteed to get the party going.
Or take a wintry must-have hot chocolate and spice it up with a Spiced Chocolate Orange Jam Jar – homemade chocolate syrup with triple sec, spiced rum and milk.
Just be careful not to catch frostbite off FIREPIT's most colourful Christmassy cocktail – a Jack Frost of white rum, pineapple juice and blue curacao. They're totally tropical … and totally irresistible!
All FIREPIT Christmas cocktails are priced £6.50 each and available right through December.