A local artist, David Thomas is currently holding a pop up Exhibition on Highgate in Beverley show casing a range of work created with watercolours.
David, who is a retired architect work features a range of subjects that include some very familiar scenes around Beverley.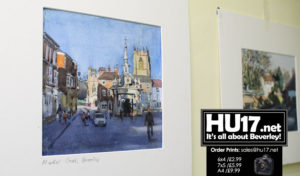 Since picking up a paint brush David is has begun to establish a national reputation as a watercolour artists especially in portraiture.
His book, 'Drawing and Painting Portraits in Watercolour' was published last year and he has also enjoyed success at exhibitions in London, where he won 'The Neil Meacher Award' for Outstanding Watercolour.
Alongside showcasing his work in the shadows of Beverley Minster, David will also be present to meet with people while demonstrating his unique folding easel which he hopes will soon go into production.
Following a visit to his exhibition it is certainly worth a visit for those looking for something very unique for their own home or for a gift for someone else this Christmas.
'Exhibition of Watercolours By David Thompson' runs until Sunday 10 December is open to the public from 10AM to 4PM at 36 Highgate, Beverley.