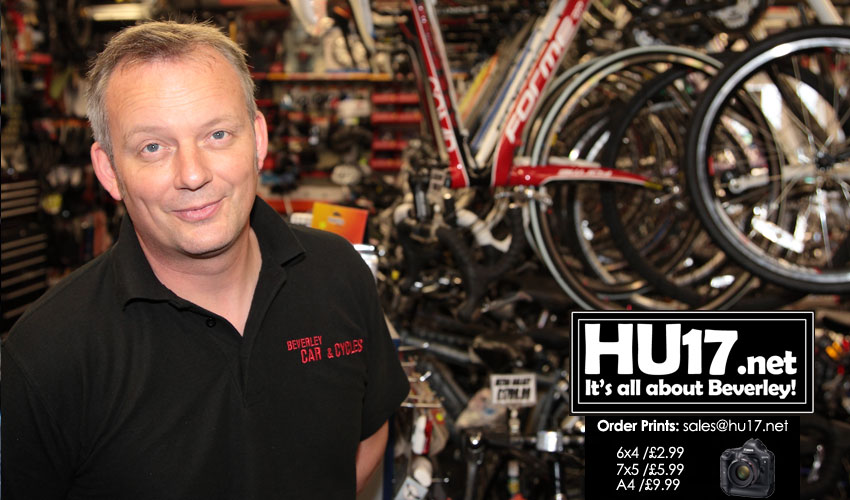 Beverley Car & Cycles have welcomed news that the Tour de Yorkshire will be passing their shop on Norwood.
Business owner Lee Frost says news that Beverley will again host the start is good news not only for the town but also for the sport in general.
Speaking to HU17.net Mr. Frost said;
"We are delighted to learn that Beverley will again play host to such a key cycling event. We are even more excited by the prospect of it passing our store on Norwood."
"Cycling is one of the very few sports that the British are good at. Locally we have a lot of people who enjoy cycling in both a social and competitive capacity."
"Anything that promotes cycling has to be good. The Tour de Yorkshire helps inspire not only the next generation of cyclists but also every day people to get on their bikes."
"Beverley is really becoming known as a cycling friendly town. Over the years we have seen the Elite Cycling Race grow in popularity and become one of the town's signature events."
Beverley was confirmed as the host town for the start of both the men's and women's 2018 Tour de Yorkshire races, something that was welcomed by the local authority.
Next year's events have been extended, with the men's race running for four days from Thursday, 3 to Sunday, 6 May and the Asda Women's Tour de Yorkshire doubling in size from one to two days – from Thursday, 3 to Friday, 4 May.
Much of the first day of the men's race, on Thursday, 3 May, will be contested in the East Riding before the peloton heads to the stage finish in Doncaster.
The ceremonial start for the men's race will take place in Beverley's Saturday Market before heading out through Norwood to the official start at Tickton.