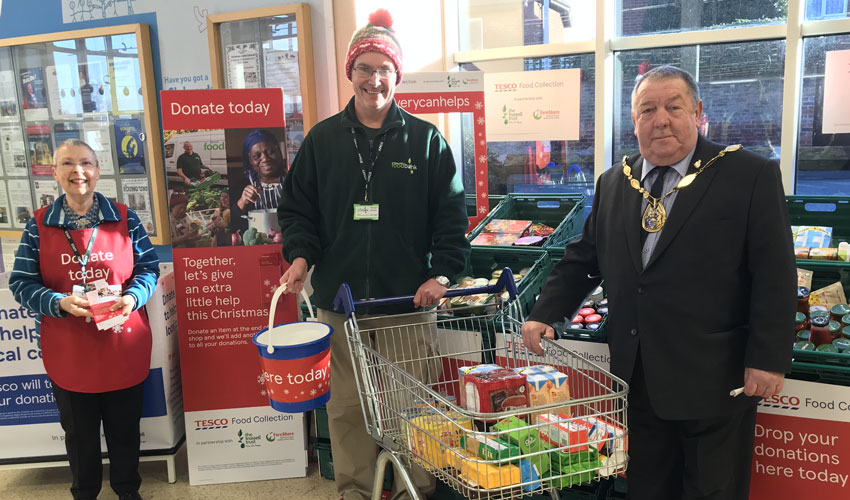 Tesco's 10th Food Collection took place in all stores across the UK last weekend, with Tesco topping up customer donations by 20% to help charity partners FareShare and The Trussell Trust feed even more people in need.
The collection at Tesco's Beverley store proved to be a fantastic success with customers donating 83 crates of food and £680 in cash donations, all of which will help provide food for people in need over the next few weeks. Our charity partner is East Yorkshire Foodbank, which is part of the Trussell Trust.
Richard Newby, Development Manager, and the trustees of the East Yorkshire foodbank say:
"The volunteers of East Yorkshire Foodbank are once again amazed at the generosity of Tesco's customers and the Beverley public."
"For us to have collected 83 crates of food, and £680, at the Tesco Food Collection, is wonderful and will allow the foodbank to help people in crisis within the local area over the Christmas period and into the New Year."
Chris Beamish, Store Manager at Tesco Beverley said:
"We would like to thank all of our customers who supported our collection. Thanks to your fantastic generosity, we can provide much needed food for hundreds of local people."
"Additionally we would like to thank all the volunteers from the East Yorkshire Foodbank who helped with the collection throughout and also Councillor Phil Dodsworth, Deputy Mayor of Beverley, who helped at the collection on the Saturday."
Off The Cuff, the new an affordable way to sell your watch from Swap Watch,From Fashion watches,Retro watches,Collectable,luxury and vintage watches,let us help you sell it. Click On Image to start selling.