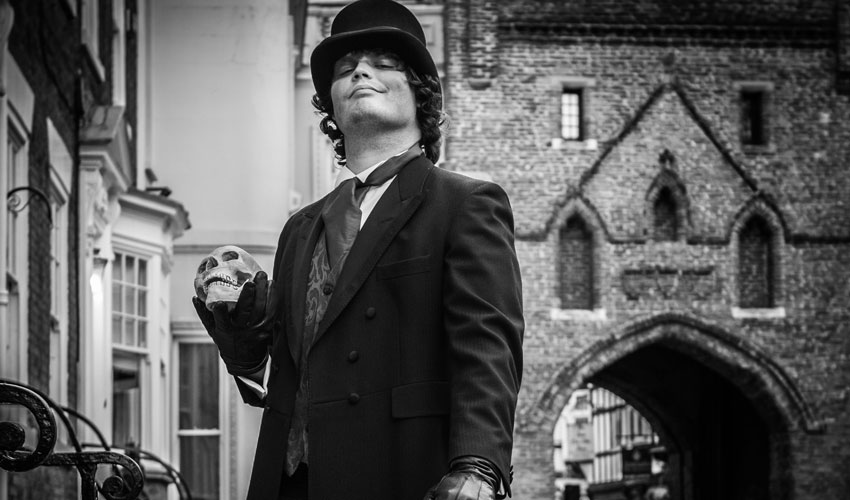 Who knew that Beverley had such a grisly and gruesome past? In a dramatic turn of events, there is a ghostly new tour in town.
On a cold dark winter's evening you can now be guided round the dark cobbled alleys and ancient buildings of the town and be spooked by tales of Beverley's bloody and supernatural past.
The sinister Victorian doctor who guides the walks is none other than Beverley born actor James Andrew.
James has worked at the York Dungeon, as an actor, not a gaoler, and realised he had found his niche in guts and gore.
Commenting on the new ghost walks James said;
"We thought it was time that Beverley was put on the supernatural map. When you delve into Beverley's dark past you discover some truly horrible tales."
"Some are so grim we couldn't include them in the tour – they made us shudder and have to stop researching for a few days until we had recovered. There are some streets I can't walk down now."
The meeting point for The Beverley Ghost Adventure is Toll Gavel, outside the Mountain Warehouse store and they take place weekly each Wednesday from 7.30PM.
Depending on the number of people who pop along, the ghost walk will last around 2 hours taking in some of Beverley's spookiest and historical sites, including Beverley Minster, The Friary, North Bar, Highgate, The Market Cross, Dyer Lane, Minster Moorgate and Lairgate.
Private tours can be arranged for special occasions or work trips out with most people living to tell the tale.
Booking can be made online at the cost is £6 for adults and £4 for children.
You can also turn up on the night, but then you'll pay £7 and children £5, and Dr Smalls may decide to inject you with an unknown substance – you have been warned!