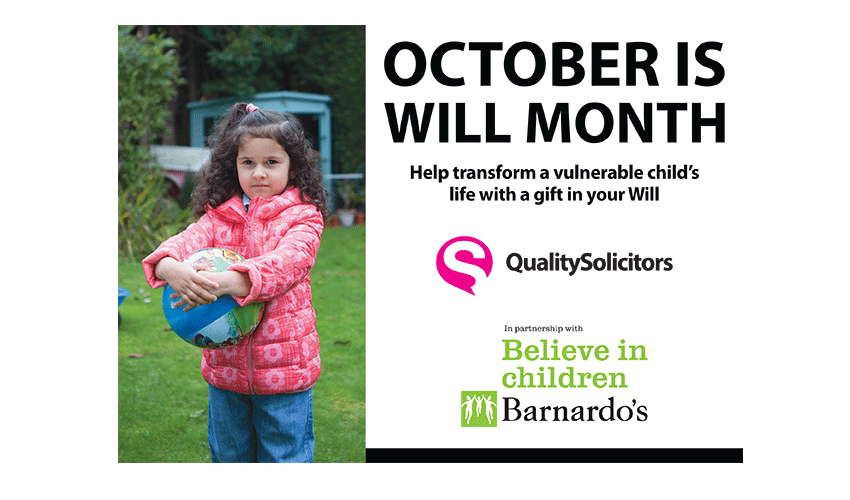 Following QualitySolicitors and Barnardo's award winning success at the Institute of Fundraising's National Awards 2017, the partnership aims to push the Will scheme initiative to new heights with October Will Month 2017.
Now in its fifth successive year, October Will Month raises awareness of the importance of making a Will that ensures that you have the necessary arrangements in place to look after your family and friends, as well as remembering causes that are close to your heart.
Thanks to the exclusive partnership with Barnardo's, for the whole of October, if you're aged 55 or over, Beverley-based QualitySolicitors Lockings, will write a simple Will without it costing you a penny, in the hope that you will consider remembering Barnardo's in your Will alongside your loved ones.
QualitySolicitors Lockings' Leah Hanson, Head of The Private Client Department, said;
"We're excited to be involved with Will Month again. We hope that many people in the local community visit one of our branches throughout October and get involved with this great initiative."
Jon Jacques, Head of Regional Relationships at Barnardo's, said;
"Since our wonderful partnership with QualitySolicitors began in 2010 more than 3,000 people have written a Will that includes a gift to Barnardo's. Given that nearly £1 in every £2 we receive from our kind and generous supporters comes from gifts left in Wills, this partnership is central to ensuring that Barnardo's work continues to transform the lives of the UK's most vulnerable children, young people and their families long into the future."
The scheme has had resounding success so far, raising over £15 million in estimated future income for vulnerable and disadvantaged children.
The legacy donations will make a huge difference each year and every gift contributes directly to creating a better future for a vulnerable child in the UK.