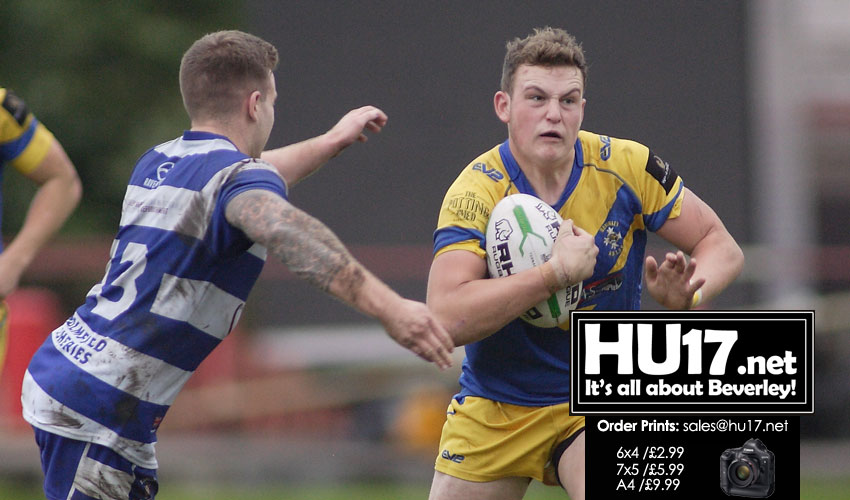 The blue and golds just fell at the final hurdle in their bid for Grand Final glory at the home of Batley Bulldogs on Saturday. They had to admit that the best team on the day won.
Beverley came into the final expecting a different type of game to the previous week's war of attrition in the semi-final and their opponents expansive attacking machine proved to be just a little too much to handle.
Head coach Scott Taylor will reflect on another good season of progress#, he said;
"You have to lose a Grand Final to win one and when you consider the average age of our side, there are many more occasions like this in them'."
Taylor kept faith with more or less the same 17 which served him so well at Batley Boys last week with recalls for Luke Inglis and Will Thompson with Bobby Howdle unavailable and Joe Morley just missing out.
There was little to choose between the two sides in the early exchanges. Jack Howdle led the charge for Beverley with half-backs Lewis Poskitt and Lewis Straw trying to find just a chink in armour of their well drilled opponents.
Beverley managed to orchestrate some quality sets with some testing kicks on the last tackle. One such kick on the last led to Ben Bardle touching down in the corner to give Beverley the lead in the 15th minute. Straw was unable to add the extras. Siddal responded with some adventurous play from deep in their own half and saw their winger Dominic Booth outpace the cover to score, and the extras were added for a 6-4 lead. The Halifax outfit threatened more points but Beverley weathered the storm and scrambled well in defence.
Lewis Poskitt's elusive running was always a threat, and when he got on the wrong end of a high tackle. Lewis Straw then stroked over a penalty to level thing up at 6-6. Siddal continued with their free flowing attacking style and 3 minutes before the break Dominic Booth stepped inside some defenders to score out wide. The extras were not added, and the scores stood at 10-6 to Siddal at the break.
The early moments of the second half saw Beverley pressing with a well weighted kick from Poskitt almost carving out a second try for Ben Bardle. Siddal conceded the line drop out, but the resulting repeat set came to nothing and ended with Beverley being pulled back for a forward pass.
Ten minutes into the second half Mathew Prest put Siddal furher ahead with a converted try. They began to stretch Beverley as they made good use of the wide Mount Pleasant pitch. One break from deep required a superb last ditch tackle from Billy Riby to deny them a try. However, with the momentum in their favour a couple of sets later, Mathew Prest added his second try to put them further ahead.
On the hour mark, Beverley started to mount some pressure and force some repeat sets. Lewis Straw managed to carve out an opening to send Sam Coleman over the line with a flurry of defenders around him. Coleman was unable to ground the ball in a potential game-changing incident. Soon after, Siddal put the final beyond Beverley's reach as Dominic Booth completed his hat-trick, and Jake Smith added a try also.
Late in the game Steve Connolly sneaked over for a deserved and late consolation try for Beverley. Beverley will come away not downhearted but better for the experience and also better for the opportunity to put the club in the spotlight in front of the RFL management.
Final Score : Beverley ARLC 12 Siddal 30 | Reported by Nick Robinson