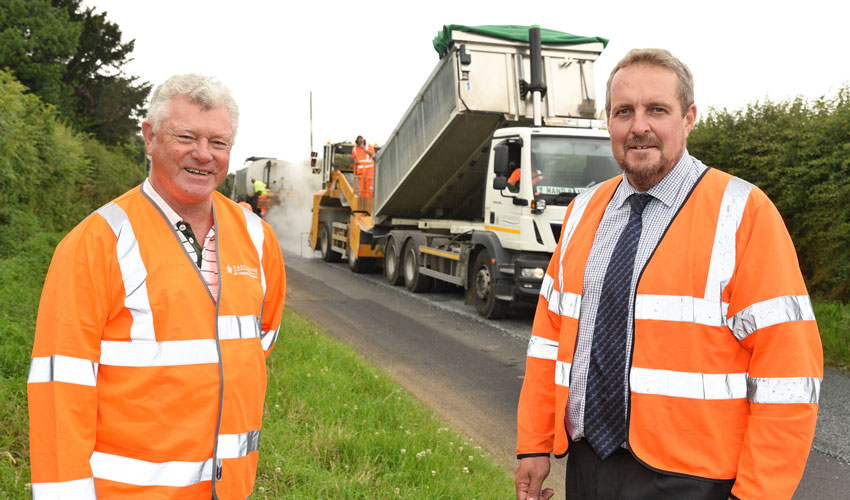 Around 70 miles of road has been improved this summer as part of East Riding of Yorkshire Council's annual surface dressing programme.
This year's £2.35million scheme, which began in May, has seen work carried out at 160 sites across the East Riding to repair and maintain road surfacing to help extend the life of the highway.
When it is completed in mid-August, around 15,000 tonnes of stone chippings will have been laid on around 650,000 square metres of roads.
It is the equivalent of resurfacing more than the whole route from Bridlington to Goole.
Surface dressing involves spraying hot, sticky bitumen on to the road, spreading chippings on top, and then using a roller to press them into the road.
Carried out by the council's own highway maintenance team, it is a quick and economical way of maintaining roads, from major routes to rural and residential areas.
The process also helps to seal the carriageway against water getting into its foundations, helps to reduce the risk of potholes forming and restores good skid resistance for vehicles.
Councillor John Barrett, the council's portfolio holder for operational services, said: "Surface dressing is an important part of the council's highway maintenance plan.
"It ensures our roads in the East Riding are kept in a good condition and that benefits thousands of drivers every day."
The council makes sure it gets value for money from the road surfacing scheme by reusing any loose chippings left over.
After the chippings are laid, any loose stones are swept up by mechanical road sweepers, collected and stored.
Then every two years the council hires a giant industrial washing machine to clean the chippings so they can be recycled and reused on the roads the following year.
The process recycles more than 7,000 tonnes of chippings and saves around £60,000 of council tax payers' money.
This year's surface dressing programme has been funded through the council's planned maintenance allocation, as well as contributions from the Government's Pothole Action Fund, the Safer Roads Fund and funding secured through the York, North Yorkshire and East Riding Local Enterprise Partnership's Local Growth Fund from the Department for Transport to improve the condition of 'A' roads in the East Riding.