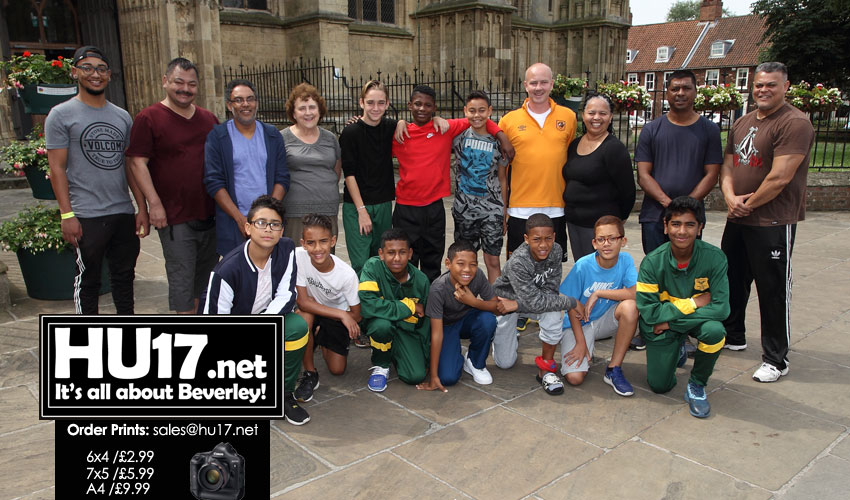 Beverley Minster was the vocal point for a group of young people from South Africa who were treated to a tour of the iconic landmark.
The visitors, Tramway FC are one of the oldest football clubs based in Cape Town and their U14 section was here spending time in the region.
Matt Barr Project Coordinator at the Tigers Trust organised the trip. While here he arranged for the team to visit Anfield Stadium, The National Football Museum, Gravity, The Deep and Beverley Minster.
Matt explained more, he said;
"In 2008 and 2009 I was in South Africa working with the Tigers Trust and trained coaches at Tramway FC. Since that visit the we have built a relationship with them."
"Players from Tramway FC wanted to come over to the UK so to make that happen they have raised the money themselves. To do this they had jumble sale, bake sale and that type of thing."
"Some of the children who play are from very poor economic backgrounds, life can be a real struggle for them so the tigers trust has helped them where we can."
Tramway FC have a long history of using sport to tackle many of the social issues faced in South Africa. The club, whose motto is 'To Be Fair, Have Fun and Be a Friend' is like many teams here in Beverley run by volunteers.
U14s skipper and defensive midfielder, Matthew Jones, was impressed with the Minster, he said;
"It looks really nice and we are all looking forward to going inside. I like it here in the UK. It's very good I like everyone here, Beverley is nice place."
While here the team also played some games against sides from the area, Jones may have been impressed with Beverley Minster, Jones has been happy with his sides performances too while on tour, he said;
"We have a good team, the players show a lot of potential going forward and I see a lot of good things happening on the pitch."