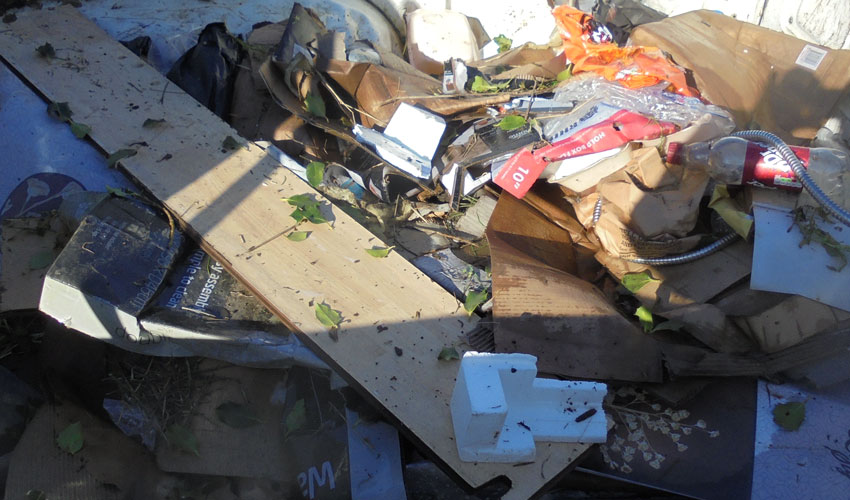 The most prolific fly-tipper ever caught in the East Riding is now behind bars after being sentenced for a string of offences at Hull Crown Court.
Darran Armishaw, 49, of Whitehaven Avenue, Hull was sentenced at Hull Crown Court on Wednesday, 21 June following a trial for unrelated burglary offences, of which he was found guilty.
He was given a total of six years in prison, with 10 months of that sentence for the fly-tipping offences which were brought by East Riding of Yorkshire Council and Hull City Council.
Judge David Tremberg also disqualified Armishaw from driving for three-and-a-half years.
East Riding of Yorkshire Council became aware of Armishaw when he was advertising his services as a waste carrier for hire, but after collecting people's rubbish from their homes he then dumped it in the countryside.
Armishaw was arrested when he was caught in the act by police as he unloaded his tipper truck full of beds, mattresses and exercise equipment on to the Yorkshire Wolds Way at Sancton, near Market Weighton, in June 2016.
Armishaw had already been sought by East Riding of Yorkshire Council's enforcement officers for a further three fly-tipping incidents on both public and private land.
Paul Abbott, interim head of housing, transport and public protection at East Riding of Yorkshire Council, said:
"Armishaw is the most prolific fly-tipper we've ever caught in the East Riding and we are happy he has been brought to justice after months of investigations by our officers and hundreds of pounds of tax payers' money being spent cleaning up the rubbish he dumped."
Armishaw pleaded guilty to charges of illegally dumping controlled waste on land without permission when he appeared at Hull Crown Court last year.
The court had previously heard that on 16 February 2016, streetscene enforcement officers were called to a fly-tipping incident off Coppleflat Lane in Bentley, near Beverley.
Several sofas, a bath, a toilet, broken tiles, boxes and bags of household waste were found dumped on the roadside.
On 26 April, 2016, the council investigated a report of fly-tipping in a farmer's field in Bracken Lane, Lockington, between Driffield and Beverley.
Rubbish found dumped there included a larder freezer, a chest freezer, a sofa and chair, a double bed, two mattresses, a large sideboard unit, a fire surround, granite tiles, a boxed Christmas tree, broken glass, boxes, pieces of wood and bin bags of clothes.
On 23 May, 2016 rubbish including three double glazing units, furniture, boxes, glass and garden waste was found dumped off Marsh Road in Keyingham.
The court then heard that police witnessed Mr Armishaw in the act of removing goods from the back of his tipper truck in the early hours of 26 June 2016 in Beverley Lane, Sancton, on the site of the Yorkshire Wolds Way national trail.
Armishaw was arrested on warrant at the scene as he was wanted for failing to appear at Beverley Magistrates' Court for issues relating to other waste offences.
His truck, which was in the tipping position, was loaded with furniture, beds, mattresses, exercise equipment and other household goods.
On each of the four occasions, streetscene enforcement officers and environmental control officers from the council investigated the sites and traced the rubbish back to residents who all said they had hired Mr Armishaw to take away their unwanted items. One resident paid him £100 to dispose of her rubbish.
East Riding of Yorkshire Council continues to warn residents of the costly risks of hiring unauthorised people to take away their rubbish.
Residents who use an unregistered waste carrier can themselves be fined an unlimited amount by the courts if their rubbish is found dumped.
Last year the council's enforcement officers launched the SCRAP campaign to remind residents they have a legal responsibility to check they are using registered waste carriers.
To operate legally firms that remove waste have to be registered with the Environment Agency as licensed waste carriers. But the council believes some operate illegally and dump waste in the East Riding.
Anyone caught fly-tipping could be ordered to pay a £400 fixed penalty notice, or if the case goes to court they could face an unlimited fine or even imprisonment.
Mr Abbott said: "Residents have a duty of care to make sure their waste is disposed of properly and by a registered firm. If they don't they could face an unlimited fine in court.
"All reports of fly-tipping are investigated by the council and any evidence found will be used to bring a prosecution."
Residents are encouraged to use their local household waste recycling site if they want to get rid of waste. The council also provides a service offering to take away bulky waste, which costs £30 for up to five items.
To report any incidents of fly-tipping or suspicious activity call the council on 01482 393939, or go online at the council's website at www.eastriding.gov.uk/fly-tipping
People are asked not to touch any fly-tipped waste or approach anyone they see fly-tipping.