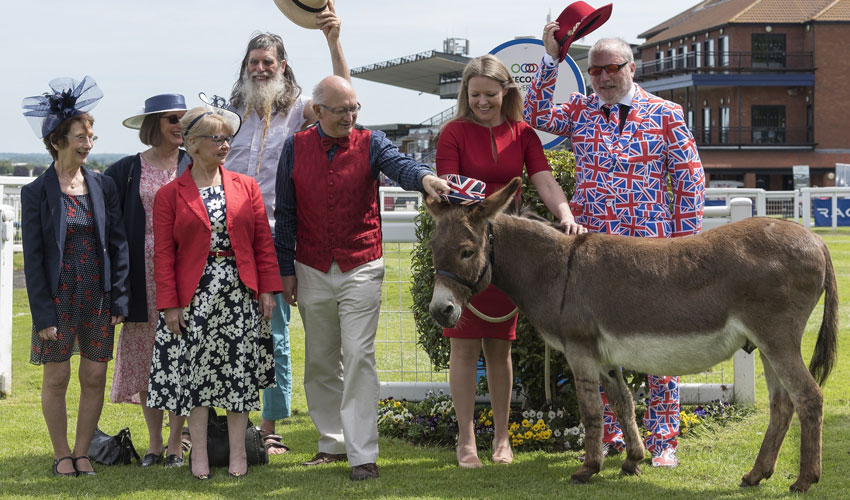 Racegoers are being urged to get into the spirit of the occasion as Beverley Racecourse celebrates all that's best about the great British summer.
A Very British Raceday provides an unmissable opportunity to revel in patriotism and will also feature the hilarious and hugely popular Beverley Donkey Derby.
Sally Iggulden, Chief Executive of Beverley Racecourse, said;
"A Very British Raceday is one of our most popular meetings. It's a simply wonderful atmosphere with something for absolutely everybody.
"Every year more and more people get into the spirit of the day, with patriotic outfits and accessories, and we'd love even more racegoers to join in the fun this year.
"The Donkey Derby is a real favourite with people of all ages. It's hilarious to watch the jockeys trying – and mostly failing – to stay on the donkeys and keep them going in a straight line. The crowds absolutely love it!
"If you are among the millions who have watched last year's Donkey Derby online I can assure you it's even better up close. I would really urge people to arrive early because it's one not to be missed."
Regular racegoers John and Caroline Holmes are familiar faces at the popular Westwood course and enter into the spirit of the day with red, white and blue outfits.
Mr Holmes, who lives in Beverley and is Director of Medical Services for leading pharmaceutical supplies company Teva UK, said;
"We're great fans of A Very British Race Day and this will be the fourth time we've attended.
"We're really looking forward to it. It's such a fantastic day out and is even more fun when everyone dresses up to match the theme.
"We're both avid racegoers and we even got married at the course last year. We love the friendly atmosphere and the Westwood setting is beautiful – especially when the sun shines."