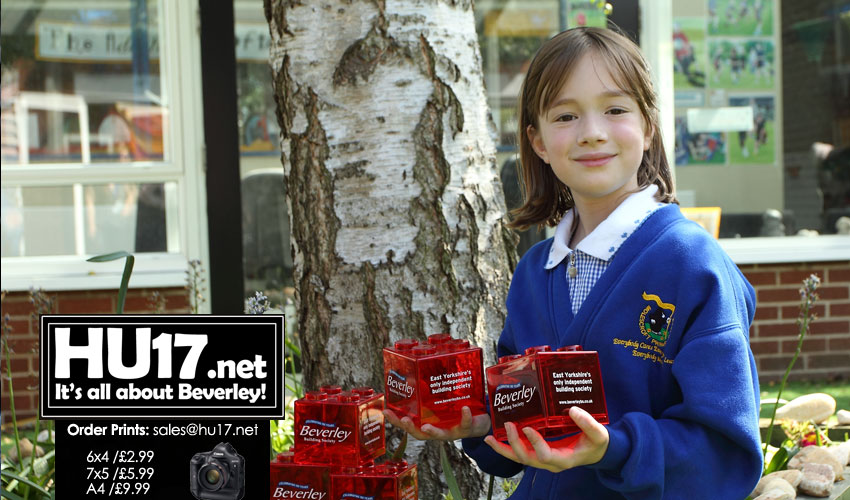 Pupils at Molescroft Primary School in Beverley were invited to take part in the Beverley Building Society Red Box Challenge.
Based on the paperclip challenge, where a Canadian blogger bartered his way from a single paperclip to owning a property in just fourteen trades, the pupils took the Society's red money boxes home to swap for different items with friends and family.
These will be used to raise funds for the Beverley Building Society's charity partner, Action Duchenne.
Lesley Wegg, Head of Operations at Beverley Building Society said:
"We have been very impressed with the effort the pupils put in, they've been very busy and we are delighted with the number of items we can use to benefit Action Duchenne."
"We had a winner in each year group and Natasha Sharpe from Year 4 is the overall school winner."
"Natasha traded her money box for a Matilda The Musical bag, which was then swapped that for a cook book, traded for a Red Arrows toiletry bag. Natasha was also very creative and documented each trade with a series of photographs."
Zoe Fisher, Marketing Manager, commented:
"We aim to encourage young people to understand personal finances as early as possible by demonstrating the benefits of saving and being responsible with money."
"The Red Box Challenge is a fun way to help pupils start thinking about their financial future as well as gain valuable skills for negotiation, trading and of course raise vital funds for charity."
"We have very much strengthened our relationship with Molescroft Primary School, we recently sponsored their International evening and look forward to working with them on other initiatives as part of our efforts to support the community."
Beverley Building Society will host a garden party on 27 June to celebrate the final part of their 150th Anniversary celebrations.
Natasha and her family have been invited as special guests and will be commended during the proceedings which will involve the burial of a time capsule.